Thoughts about music, mine and other people's. An occasional notebook about various aspects of my musical universe. Please feel free to comment.
SOUND, and how I got into it. 
Why is music called the divine art, while all other arts are not so called? We may certainly see God in all arts and sciences, but in music alone we see God free from all forms and thoughts. In every other art there is idolatry. Every thought, every word has its form. Sound alone is free from form. Every word of poetry forms a picture in our mind. Sound alone does not make any object appear before us.   Hazrat Inayat Khan – 'The Mysticism Of Sound And Music'
Sound has always been the first and most important thing about music to me.
I first got into music in the early 1970s. In late 1971 I bought my first 7″ 45rpm single, which was "Theme From Shaft" by Isaac Hayes. Later, in 1972, I discovered the mystical world of Jamaican music and started to buy practically every reggae record I could find.
The sound of those early 70s reggae records was very evocative, and when Dub appeared on the scene it was even more mysterious-sounding. The very first Dub I heard was a Prince Buster album, "The Message, Dub Wise" ( This would be around late '72 or early '73 maybe. )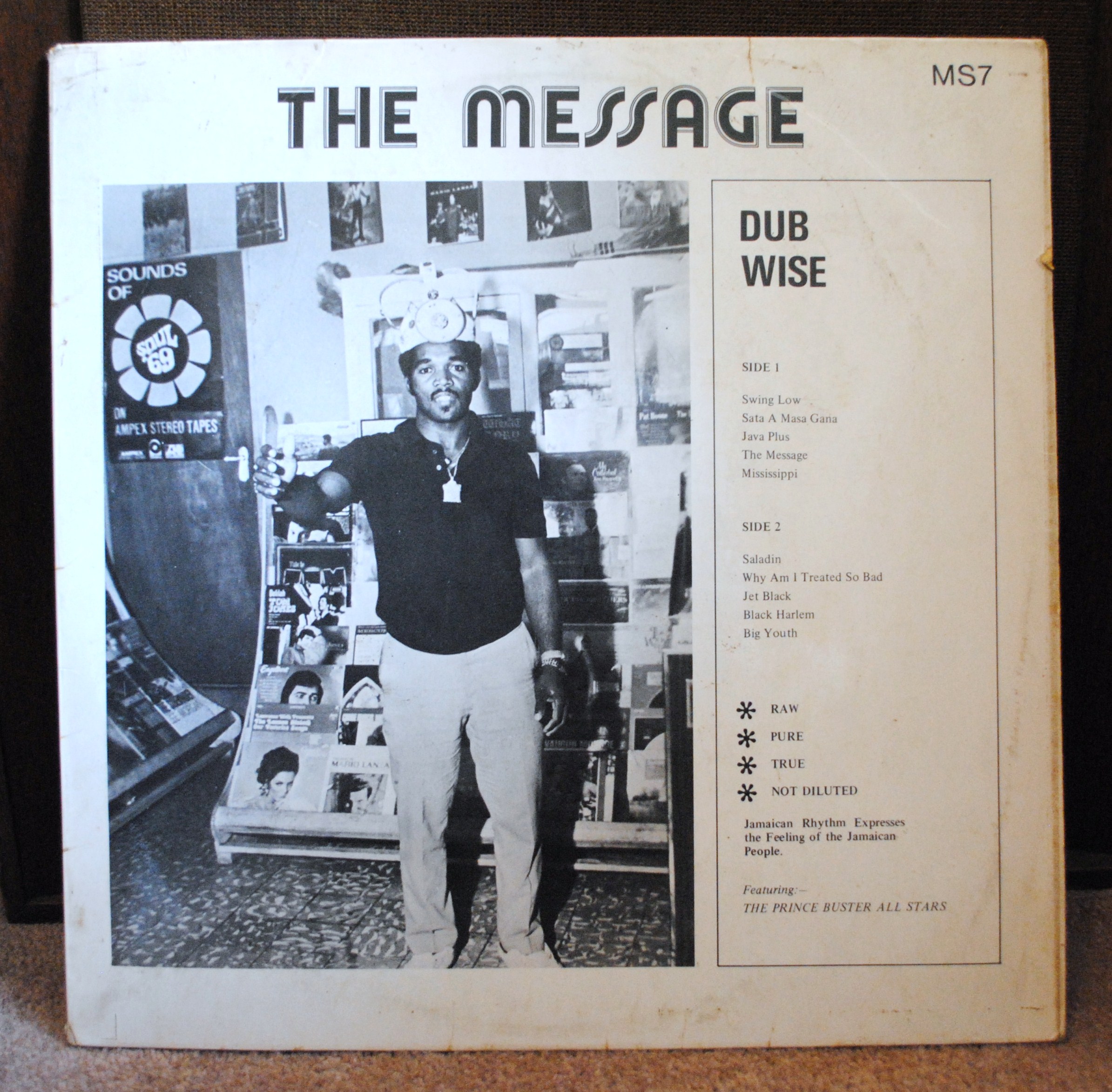 The sleeve was enigmatic, there was no artist credit apart from "Featuring – The Prince Buster All Stars" and I wasn't really sure what I was getting until I took the record home. I can still remember the first time I put this LP on the turntable and the music started, I was transfixed with the way the various instruments would come in and out of the mix, along with the studio effects it created a very mysterious mood and gave the music even more depth.
Throughout the 70s I bought as much reggae as I could unearth. I was particularly attracted to 'Roots' reggae, by artists such as Yabby U ( Vivian Jackson ) and The Prophets, Augustus Pablo, Keith Hudson, Burning Spear, Silford Walker, Tapper Zukie, Prince Jazzbo and of course all the Dub LPs, usually mixed by the Genius of electronics and Sound, Osbourne Ruddock  a.k.a. King Tubby.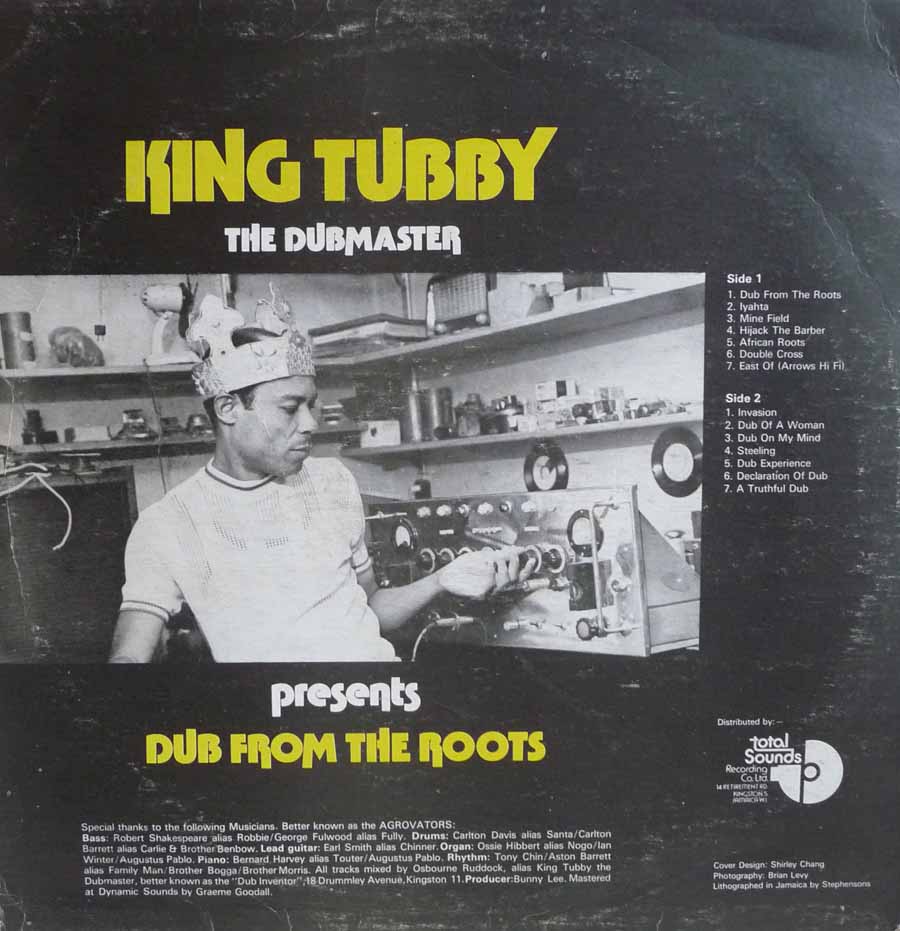 All the records, Dub or otherwise, that were mixed by King Tubby sounded superior to most other records. Not that the others sounded bad, far from it, but Tubby's mixes were uniformly excellent, the instruments all had an edge or 'bite' to them although the music always sounded warm, which is something that can be difficult to achieve, whether as an engineer or as a musician. There was a great depth to his mixes, and if it was a Dub mix then there was always something happening at any one time in the music, the focus would shift from one instrument to another as he skillfully distorted the recorded instruments into a blend of sounds that developed like a good jazz solo.
The lyrics of some of the Roots tunes were inspired by, or lifted straight from, the Bible. Even when the words were completely original they were often cast in a similar mould. This, along with the Mystical atmosphere of the often minor-key songs and the deceptive balance of the rhythm tends to give the music a Spiritual depth unmatched in most other 'popular' musical genres. When music like this, from an artist like Yabby U for instance, was then mixed by King Tubby then the results were often sublime.
The Rastafarian movement has inspired some of the greatest music from Jamaica, and another stream of music came out of the hills where the Rastafari bretheren had their camps. Sometimes known as 'Nyabinghi' the music is largely played on hand drums of various sizes, although there can be other instruments including horns, acoustic or electric bass, acoustic or electric guitar and piano or organ. The main practitioner of this style of drumming was the great Count Ossie, who formed a large group with Tenor saxophonist and flutist Cedric 'Im' Brooks in the early 70s which became known as The Mystic Revelation Of Rastafari.  Their completely unprecedented triple-album set 'Grounation' is a pinnacle of Jamaican music, having jazz influenced instrumentals alongside vocal pieces and even poetry and communal singing. This was released in 1973, I ordered my copy from my local record shop after reading about it in the magazine 'Black Music' and I picked it up from the shop one lunchtime at school, when I was 15 or 16 years old. When I got it back to school, and was looking at it in wonder and anticipation, my school friends were looking at me like I was from another planet, and it certainly didn't sound anything like the Bowie or Northern Soul records they were listening to back then!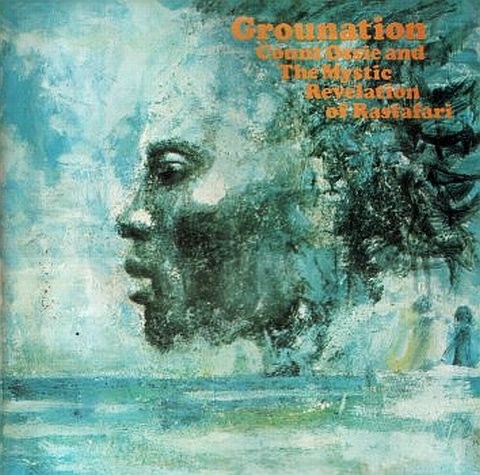 One of the attractions to the music of Jamaica was the actual SOUND of the recordings, there was always a warmth and depth to them, even though ( or maybe partly because? ) they were recorded on basic equipment.  A few years later, around 1978/79, presumably after some of the Producers/studio owners had licensed some albums to Island or Virgin Records and had made a little money perhaps, the studios were gradually upgraded to 16, 24 or even 32 tracks, which had the effect of making the music sound a little too 'slick' for my ears. Then in 1979 I bought my first saxophone and started to investigate the world of jazz music, so reggae music took a back seat for several years thereafter.
All throughout this time during the 70s of collecting reggae records I didn't ignore other music. Not totally at least. I would have forays into other styles from time to time, I bought quite a few blues albums in the mid-70s ( I had bought a cheap acoustic guitar from my uncle for £2 (!) he brought it back from a holiday in Spain, it used to make my fingers bleed trying to emulate the sounds of Robert Johnson and Son House etc. )  I used to listen to Bob Dylan and Leonard Cohen, Frank Zappa. When Punk emerged in 1976 or so I bought a lot of 45s and a few LPs.   I bought Ian Dury's album 'New Boots And Panties' and the first Elvis Costello album among others. But none of this music had any lasting effect on me, none of it had the depth and the sheer mystery of the best Jamaican music. ( Except Robert Johnson, but more of him later…) To my ears a lot of other music sounds 'flat' by comparison. I don't mean flat in pitch, but thin and having no depth or body to it.  There was none of the warm bottom of the bass, or the crisp sound of the cymbals and the expressive voice of the horns. People often seemed to be shouting, or mumbling, rather than singing. Even when Jamaican DJs ( ie 'Talkers' or 'Toasters'  or what people might nowadays call MCs or rappers I guess. ) just talked or even actually shouted they sounded more musical to my ears than most other so-called singers in other genres.
I never had much success converting the few friends I had to the sounds of Reggae and Dub either. At school we had a 'record club' where one lunchtime each week a teacher would supervise a record player in one of the classrooms and people would each take in a record to play.  The only time I bothered to take a record in was when the Wailers' album 'Burnin" had just been released. I took it along and played 'I Shot The Sheriff' ( this was long before the Eric Clapton hit version of the song, and long before Bob Marley's turning point gig at the Lyceum and his big hit from that gig 'No Woman No Cry' )  Thinking it was the most accessible tune on the album I proudly put the record on the turntable and skillfully dropped the needle onto the groove. But there were moans of dissatisfaction from everyone in the room and they insisted I take it off before it was half way through. I'd like to think that everyone in that room that day has at least ONE Bob Marley album nowadays!
I find people to be a little strange in their choice of music sometimes, almost as if they don't really LISTEN to the music they buy. It seems as if they are into the music for reasons other than the music itself if you understand what I mean. And I am convinced that some people see some types of music as a stance against what they perceive as the 'accepted' sound of music. I've even heard people say to me that great musicians like Eric Dolphy and Charles Mingus made music just to annoy people, which is the most ludricous concept in their particular cases.  But I always was and still am completely into the SOUND of music. The SOUND that  some people manage to achieve on their instruments or with their voice. The SOUND  of a well-balanced recording. And Jamaicans are very, VERY, particular when it comes to sound. When I finally visited Jamaica, in 1994, every Sound System I went to hear had the most perfectly balanced sound I've ever heard. The music was BIG ( always outdoors of course ) and heavy, but the bass was crystal clear and there was no distortion anywhere to be heard. I remarked upon the apparent lack of obviousness of the treble or 'top-end' of the sound to the Jamaican guy who was taking us around ( the cousin of a friend of mine ) and he just said "Yes man, you have to CONTROL  the treble" like it was the most obvious thing in the world.  So many systems ( and I DON'T  mean Reggae Sound Systems )  in the UK focus on volume and don't seem to hear the absence of bass or complete lack of balance of the various components of the sound.  Reggae Sound System operators take their calling seriously, and they are meticulous in trying to achieve the perfect sound when they play out in public, a lot of people seem to think it's about volume but that couldn't be further from the truth. When you hear a good Sound System play it doesn't even sound 'loud', it just sounds BIG, as if the music fills all the space all around you, the whole of the room, as big as it might be. It's like you are 'inside' the music, like you could touch it, and it carries you along with it.
Sometime around 1978 I met a couple of people who were into music, one was intending to buy a flute and the other wanted to take up the saxophone. So I dug out some of my records that featured those instruments and lent them out for their listening pleasure. These were all reggae records of course, although I had bought a couple of Jazz records by this time too. The first one was John Coltrane's 'Blue Train' LP. I'd read an article about him in 'Black Music' magazine which said something along the lines of him being responsible for the saxophone sound on a lot of Reggae and Afro type records, that he was so influential in his concept that his music had had a far-reaching influence. And one day in a record shop there weren't any new reggae albums for me to buy but Blue Train had just been re-issued, this was 1978, so I bought it to investigate. It sounded a little alien to me because it was the first Jazz I'd ever heard, but his sound on the tenor saxophone was recognisable, I'd heard that kind of sound before from people like Tommy McCook and Cedric Brooks.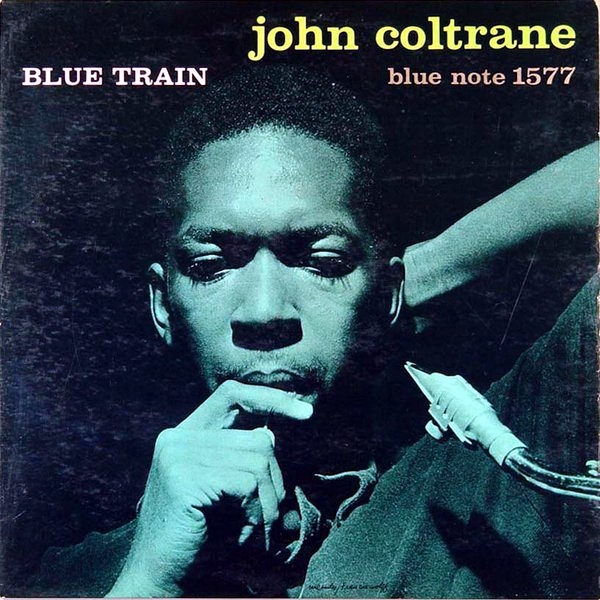 So in gathering together the records featuring saxophones it gave me a taste for the saxophone myself, and one day in a local record shop ( I've spent a lot of time in record shops…)  I spotted a saxophone in the back room and enquired about it. The owner said it was an old one he used to mess around with and was intending to use it in a window display. I persuaded him to sell it to me for £20 and I went home with it, intending to fool around with it and impress people at parties.
But as soon as I put the mouthpiece in my mouth and breathed air into it the sound spoke to me. It spoke to me in a way that the acoustic guitar never did. Maybe because the acoustic guitar didn't feature much in recorded Jamaican music, or maybe it was something about the timbre of the instrument I don't know, but the sound had some kind of meaning to me and I identified with it in some kind of way, which was not the case with the guitar. I decided almost there and then that I had to take it a little more seriously. I had been told that the instrument was an old C Melody saxophone, somewhat obsolete nowadays, so I decided to save up some money and buy a decent used Alto. ( I found out later that it was actually a very old pre-World War 1 Alto, not a C Melody after all )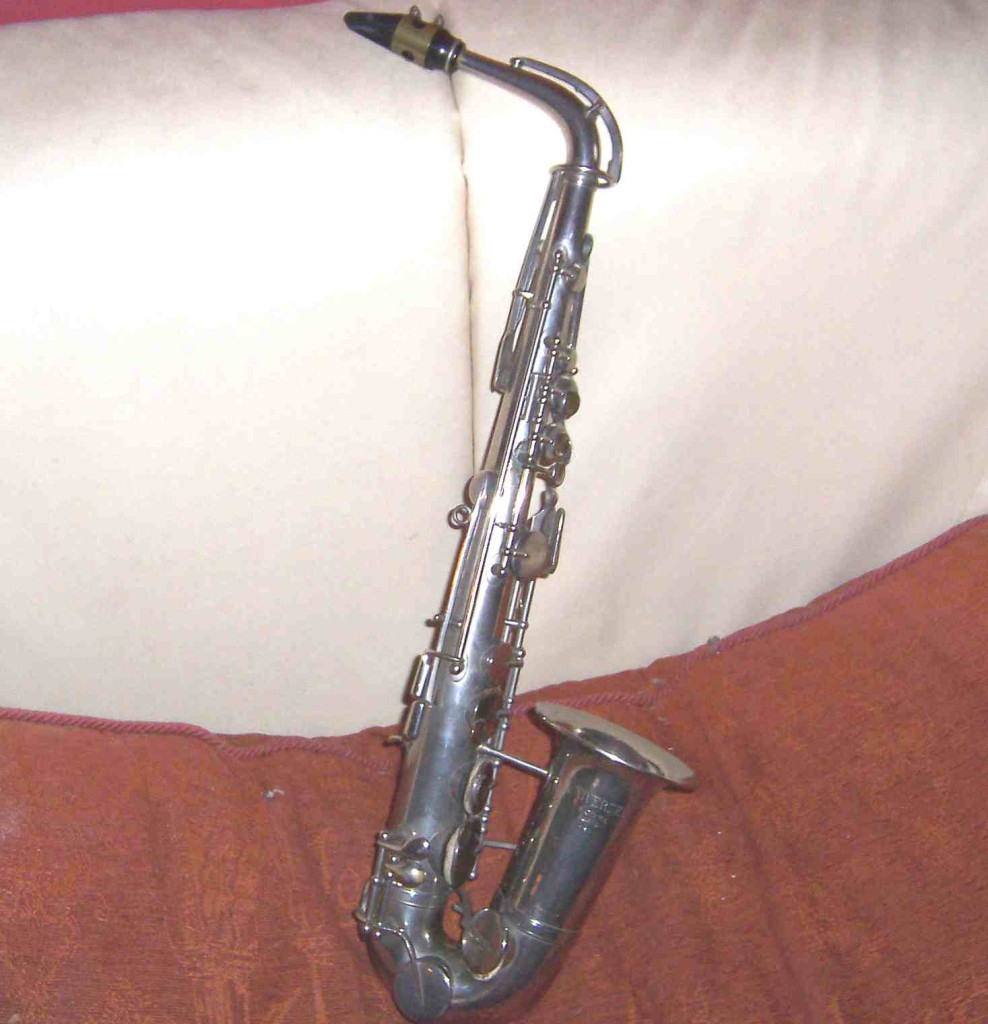 I only had the ancient silver-plated alto for a few months when I bought an old Conn alto from a music shop, I don't know the exact model but it was very much like the one below.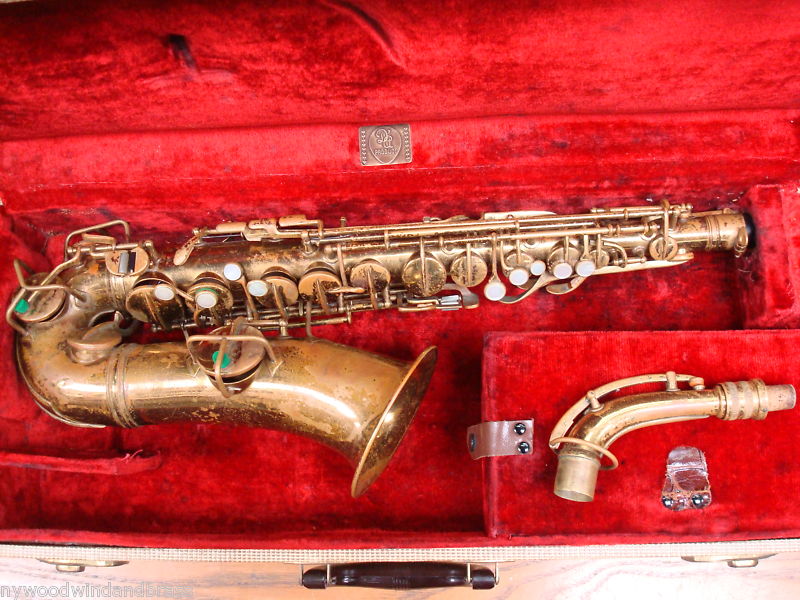 The people at the music shop I bought the alto from gave me the phone number of a local Jazz saxophone player so I could arrange some lessons and I left the shop and got on the bus with the saxophone.
To be continued…
UPDATE  25/10/2015
When I started to have lessons on the saxophone I began to investigate the world of Jazz music. I tuned in to all the radio programmes I could find, Peter Clayton had a show on BBC which I would record and then copy the music I liked onto cassette to listen too. He also presented some great live sessions from Maida Vale studio which I still have to this day. In particular there's a fantastic Louis Moholo session with Trevor Watts and Frank Wright that is incredible. Humphrey Littleton would also play a wide spectrum of music like Peter Clayton, sometimes to the chagrin of his listeners. I recall one time he read out a letter from an irate listener who was complaining about him playing modern jazz ( an old term now… ) "c'mon Humph, you don't like it so why play it?"  Humphrey's response was beautiful and succinct "Well sir, like it I do and play it I shall." !
I would also visit the local library which had quite a jazz record collection, frequently updated too I might add. I would take the records home and record the ones I liked on to cassette.
When I would have saxophone lessons ( from a local jazz player, Harold Salisbury, still playing well today. ) I would also borrow a stack of LPs and cassettes and take them home to listen to, and copy of course. ( I admit to having committed many crimes of this type over the years… )
I would continue to visit record shops, particularly in Manchester and Liverpool, and buy what interesting jazz LPs I could find. So, along with my clandestine recordings from radio and borrowed vinyl, I began to build up quite a library of jazz to learn from.
The main thing when listening to all this new ( to me ) music was how it sounded of course. An obvious thing to say maybe. But I mean the actual SOUND. The timbre of the instruments. The sound of the band. The sound of the recording. The notes being played were secondary. Not unimportant, but secondary. What was important to me was the sound of the notes and how they were played. The rhythm of how things were played.
Coming from the background of listening to Jamaican music in a serious way I was very sensitive to these elements. Sometime along the way I was diverted into listening to the notes more than I was comfortable with, but that's another story. I've made mistakes along the way I admit. But over the years I've learned about the driving forces that motivate me to pursue the music, both as a listener and as a player. I've learned that the qualities that attract me to the music that I listen to and that motivate me to play the music that I play, are partly a result of the music that I grew up listening to ( i.e. Jamaican music ) and also the fact that I started out as a LISTENER before I became a player. I had a strong sense of what sounded good before I ever picked up an instrument.
So, here are some of the first jazz records I bought and which had a profound effect on me:
( to be continued… )