REVIEWS FOR Creation (Sound Soul & Spirit)
Mike Gates, UK Vibe
Nat Birchall 'Creation' (Sound Soul & Spirit) 5/5
"Creation" is the eighth album from saxophonist Nat Birchall. Released on his own Sound Soul And Spirit label, it is the latest in a line of wonderful, spiritual jazz albums to be released by the Manchester based musician, following up on last year's incredible "Invocations" (Jazzman Records). The group assembled for this session features pianist Adam Fairhall, bassist Michael Bardon, and two drummers, Johnny Hunter and Andy Hay. Hunter featured on "Invocations", alongside a percussionist, and although the use of two drummers may at first sound a little unusual, it does somehow feel like a natural progression for this recording. One might imagine the sound being too busy, or overly thought-out, but it actually works in quite the opposite way, with Hunter and Hay adding so much texture, colour and life to the overall sound, it becomes more obvious with every listen as to why Birchall chose to go with this option. Imagine Paul Motian and Jack DeJohnette trading ideas in a soulful, deep and spiritual way and you'd be close to getting the picture. Another key feature to this album is once again the inclusion of Birchall's regular pianist Adam Fairhall. The connection Fairhall and Birchall seem to share is one of those rare musical partnerships that bares fruit each and every time the two get together. Birchall's compositions are intense, yet very open, and the need for the musicians he works with to share a similar cosmic vibe is of paramount importance in helping take the music on with skill, confidence and freedom. Fairhall achieves all of this…and some, his understanding, empathy and virtuosity key to helping make the music what it is.
"Creation" has five tracks on it and is only 35 minutes in length. Put simply, it is a masterpiece. It is a triumph of music making; soulful, spiritual, contemplative, free, inspired, thought-provoking, challenging, captivating and ultimately uplifting. With so many musicians these days cramming as much music onto one album as possible, it is refreshing to hear a release that is what any album should be; a worthy statement or reflection of where the artist is at that moment in time. It shouldn't matter how many tunes there are or how long the album is. What matters is that the music has a reason to be here, giving the listener an insightful and rewarding window into the life and music of the artist at that one moment in time as a complete picture. And this is exactly what we get with "Creation".
All of the musicians involved on this session, recorded entirely in one day, share an obvious chemistry. Right from the off, on the wonderful opener "Love In The Cosmos", the listener can hear, and practically touch the energy being created in the room. There's a perfect balance between the two drummers, skilfully creative bass, mind-blowing piano, and of course, soaring, spiritual tenor sax. The resulting sound throughout the whole album takes the listener on an incredibly powerful journey, reaching heights that most music doesn't come close to. It sounds effortless, yet at the same time you can sense the intensity and momentous effort that's being put into the music. It comes from within, building up in layer upon layer like a rich tapestry weaved with musical magic, pushing to break out from the inner reaches of the soul, and then breaking free with vibrant colours and textures hitherto rarely experienced. "Love In The Cosmos", as with most of Birchall's tunes, relies heavily upon inspired improvisation from the band, and there's no end to the magnificence of the collaborators on this recording. Yet the thing that also stands out here, is the natural beauty to the compositions themselves. Birchall excels in this area on all five tunes on "Creation", creating the perfect musical backdrop for the band to improvise on. His direction and leadership is the key, and his own playing is quite simply on a different level. You can feel every breath through his passion and energy, his saxophone singing out with a gift of inner freedom so rarely heard since the legendary performances of John Coltrane. "Through The Darkness" sees the band developing the writer's themes in exemplary fashion, charting new and exciting courses as they journey on. There's a depth of beauty that is pure, simple, and stunning on the slower, more gentle "Peace Be Unto Us". A shorter piece, it just wraps the listener up in its warmth and meditative kindness. "Ocean of Truth" seems to communicate an openness, a searching for the meaning of things, in a compassionate and fulfilling way. This tune features a wonderful bass solo from Michael Bardon, before setting off on its inner journey, with Birchall's enigmatic sax once again charting its course, and Fairhall's inventive piano responding with like-minded skill and virtuosity. "Light Of All Worlds" closes the album in uplifting style, with all of the musicians once more contributing in a collective way that lifts the spirits and raises awareness in a meaningful mind, body and spirit kind of way.
All of the tunes on "Creation" do seem to relate to one another, perhaps all being derived from creation itself – in a mindful and musical way. They share a unifying theme throughout the recording and indeed, from a personal perspective, I felt totally at one with the music being performed. It doesn't get any better than that. To my mind, "Creation" is Nat Birchall's masterpiece. Go get the album now and make your own mind up.
*************************************************************************************************
Charles Waring, Record Collector Magazine (October 2016)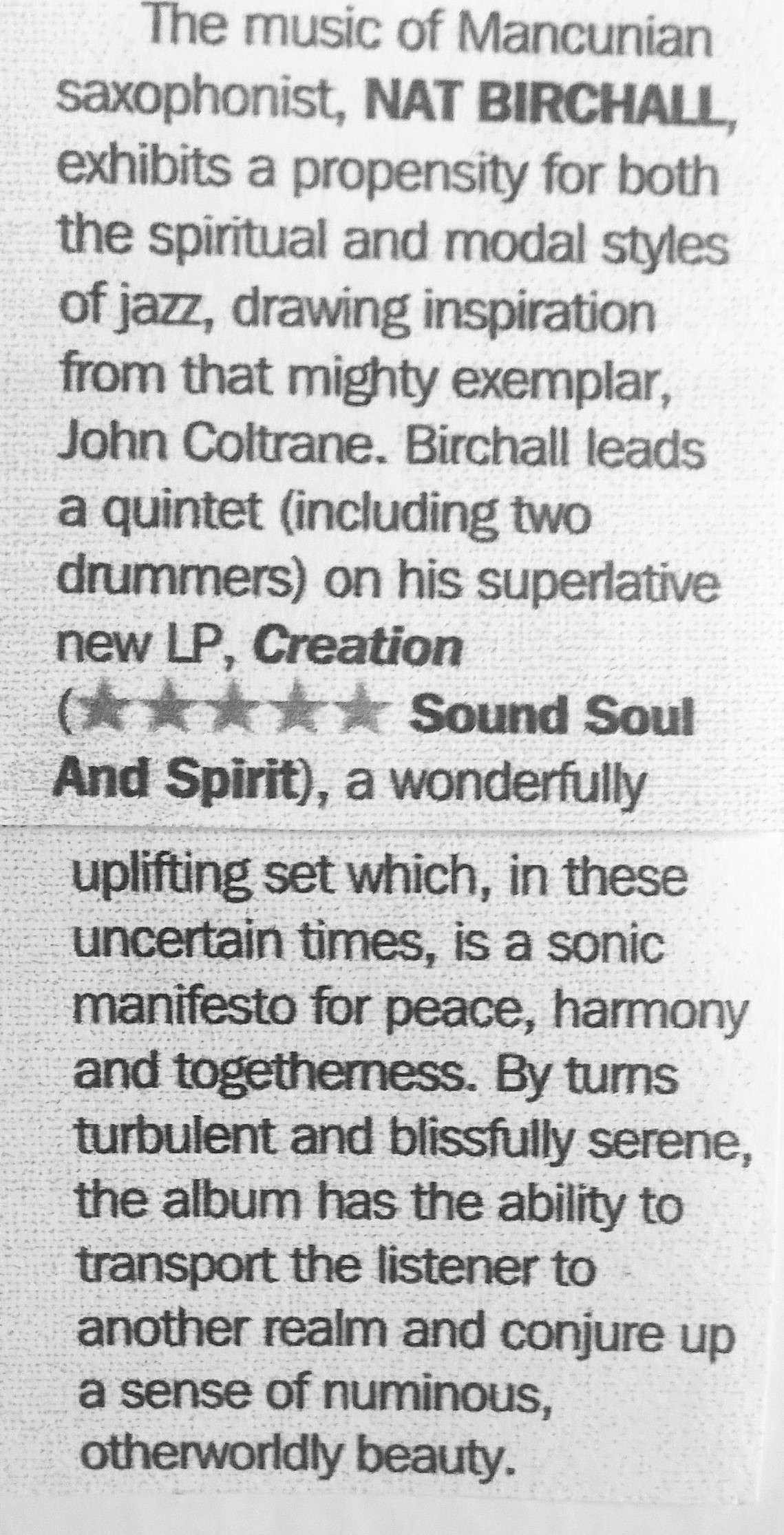 *************************************************************************************************
REVIEWS FOR Invocations (Jazzman)
Phil Barnes, All About Jazz
https://www.allaboutjazz.com/nat-birchall-invocations-by-phil-barnes.php
There is a feeling of a new beginning on this collection from 
Nat Birchall
. Superficially the album is released on Henley-on-Thames' Jazzman records rather than Birchall's own Sound Soul and Spirit records, on which he released the wonderful 
World Without Form
and classic
Live in Larissa
. More tangibly only
Adam Fairhall
on piano remains from those two collections, representing the last common link to the pool of musicians Birchall and
Matthew Halsall
drew from in their classic collaborations on Gondwana records. Halsall is on record as saying that the parting was amicable, which seems reasonable given that Birchall was a better fit for the spirituality of "When the World Was One," than the gentler more composed "Into Forever." The latter was the first Halsall record that Birchall had not appeared on at least one track, so it is hard not to feel that the end of a chapter has been reached.
If that is the case then Invocations finds Birchall in creative rude good health. The key to his music is his beautiful deep tone married to an instinctive understanding of the need to give that sound space to breathe. It's a wordless expression of feeling for the music, showing that 'passion,' a word devalued through overuse by lesser artists, need not be synonymous with some quasi-sophisticated branding approach, corporate mission statement or pointless competition with his peers. Birchall, it should also be noted, eschews the critical shorthand "spiritual jazz" preferring to describe his music as "spiritual in its intent …that attempts to connect to, or invoke, the Universal Spirit or Sat-cit-ananda" and there can be no doubt of the depth of feeling, love and desire to communicate through the music he plays.
The other reason for the sensitivity around the "spiritual jazz" tag is that it tends to imply a reductive simplification of the music, albeit in the service of higher goals, when in truth Birchall brings a wider palette to the listener. Read his eloquent website blog on how he reached jazz via the dub reggae of the 1970s, finding something in John Coltrane's 'Blue Train' era tenor saxophone sound that reminded him of Tommy McCook, and it's hard not to ascribe his audible sense of musical space and dynamics to these early tastes. Birchall also emphasises that he was a listener before he was a musician, leading him to value the totality of the sound, the feel and timbre of the instruments and the way that they were recorded, over the simple actual notes played. This is something that, arguably, also comes from that golden age of Jamaican music and feels refreshing at a time when even our music finds little middle ground between dry intellectual games and pointless easy listening.
Dues are paid to John Coltrane with the cover of "To Be," but the four lengthy Birchall compositions that form the rest of the collection are if anything better still. Among the highlights are the way that "Invocation" hits a soulful piano and bass riff shortly before the 5 minute mark like Alice Coltrane covering Horace Silver; or how opener "Song to the Divine Mother" winds a slow, intense, Birchall solo around the rhythm, the emotion growing as it progresses into Adam Fairhall's rippling piano solo. As befits the senior collaborator in the band, it feels as though Fairhall features more prominently on this album—his piano solo on final track "A Luta Continua" is excellent being both powerful and engrossing as it emerges over the soulful bass line in the first half of the piece. Birchall joins around the halfway mark to bring the track and the album home to a satisfying conclusion.
There really must be something in the water in the North West of the UK that has brought forth so much talent in recent years. Younger, more open in outlook and less conservative than the cut throat London scene that tends to monopolise the attention of the UK media, the likes of Birchall, Matthew Halsall, GoGo Penguin, The Weave, Matt Owens and the Beats and Pieces Big Band are among those who have emerged from the area in recent years and long may it continue. Invocations continues the almost routine excellence that Birchall has given us of late, and if Live in Larissa taught us anything it is that live he could stretch these pieces still further. A light in a sea of mediocrity, the prospect of Birchall playing these tunes live in 2016 has just made the New Year a very appealing prospect. Unreservedly recommended.
Also appeared on Phil's Favourite Albums of 2015 list –
Nat Birchall Invocations Jazzman Records
After last year's classic Live in Larissa Nat Birchall returned with a new label and a mostly new band on this album. As before the beautiful deep tone of Birchall's sax and enthralling grasp of the space and dynamics of the music made for a superlative listen.
*************************************************************************************************
Daniel Spicer, Jazzwise magazine

*************************************************************************************************
 Charles Waring, Record Collector magazine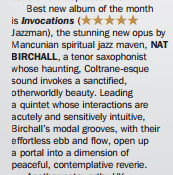 Mike Gates, UK Vibe
Nat Birchall 'Invocations' (Jazzman) 5/5
It was Sibelius who said: "Music begins where the possibilities of language end." And there endeth this review. Or not (obviously). I am far from alone in having been fortunate enough to have had the pleasure at one time or another, to listen to music that somehow seems to bypass the usual route to our senses by directly affecting us in a way that transcends our normal thought processes, even taking us beyond what we would consider to be a heightened emotional response. It goes deep. Deep into our very being, in to what it is to exist as a human being. Buddhists might experience this as the awakening of the lotus flower that rests within us all. A spiritual awakening that sets a person on the path to Enlightenment. In musical terms, it is the point where we don't even need to think, extrapolate any information or consider anything to do with what we are hearing and feeling; it just is. A oneness within us that touches, holds, and is effortlessly joined with the music we are listening to. This is how I felt when I first heard this album.
John Coltrane once said: "All a musician can do is to get closer to the sources of nature, and so feel that he is in communion with the natural laws." An apt and relevant quotation in more ways than one. Nat Birchall's musical journey began in the early 70's, listening to Jamaican music. Throughout the decade he delved deep into roots and reggae music, with passion and enthusiasm. To Birchall, it was the "sound" of these recordings, as much as anything else, that meant so much. Sometime around 1978 Birchall purchased his first Coltrane album, "Blue Train". It felt slightly foreign to his tastes at that time but once again, it was the "sound" of what he was listening to that really struck a chord. A year or so later, after a brief flirtation with playing the guitar, Birchall bought his first saxophone. He explains: "So in gathering together the records featuring saxophones it gave me a taste for the saxophone myself." Having made the purchase he goes on to say, "I went home with it, intending to fool around with it and impress people at parties. But as soon as I put the mouthpiece in my mouth and breathed air into it the sound spoke to me. It spoke to me in a way that the guitar never did. The sound had some kind of meaning to me. I decided there and then that I had to take it a little more seriously."
Fast forward to 2015 and I think we can safely say he has. Despite the fact that Birchall, to some extent, still appears to be, in jazz terms "The UK's best kept secret", he has pursued his own path of discovery that has led him to become one of jazz's true exponents of the kind of soulful, spiritual jazz perhaps first embodied by the trail blazing recordings of John Coltrane. For "Invocations", his latest album, Birchall is joined by his regular pianist Adam Fairhall, bassist Tim Fairhall and drummer Johnny Hunter. Birchall's previous release, the excellent "Live in Larissa" featured Cory Mwamba on vibes and although he doesn't feature on this session, we do have the addition of Christian Weaver on congas and percussion. What makes this album so special, apart from the obvious: outstanding compositions and a band leader at the peak of his powers, is the contribution of Birchall's fellow band members. They perform with such unity and skill that the resulting recording is lifted to an even higher place than one may have imagined. This is especially noticeable with pianist Adam Fairhall. His performance here is simply stunning. Throughout the session he performs at such a high level of mastery, virtuosity and above all, intrinsic understanding, at times the listener is left speechless. There appears to be a rare natural musical bond between the musicians here, one that elevates the music well beyond normal expectations. Interestingly, in a recent interview for UK Vibe, Birchall makes reference to part of the recording process: "When we have a new song, usually at a recording session, I explain the different parts to the players and how they fit together. We then have a brief run through the beginning of the piece, maybe once or maybe twice, and then we go for a take. Each player has to really find his own space. The musicians are free to deviate from the written part after it has been played for a few bars or for the duration of the melody statement, but even this is not strict, it depends on the song." Birchall's approach pays huge dividends on this recording, allowing space and freedom for the band to shine. Without doubt this approach requires the players to be on the same wavelength, and it works with an unerring cohesion here. Birchall sums it up well: "I believe the best music is made when the musicians are free to play as they wish within the character of the song, and you have to be a certain type of player to do this."
"Invocations" features five tracks, four Birchall compositions and Coltrane's "To Be". All the pieces sit very well together, the album as a whole being more like one conceptual spiritual vessel rather than separate individual tracks. The journey begins with "Song to The Divine Mother", a searching, emotively powerful composition that draws the listener in from its first breath. The percussive and bass led opening soon develops into a Coltrane-like floating hymn, the music caressing and comforting the soul with Birchall's evocative and expressive tenor reaching out to the listener, at times subtle, at times explosive, but always with a deep meditative balance. The rhythm section plot their own course half-way through the tune, with pianist Adam Fairhall taking the lead in breathtaking fashion. There seems to be an awareness here, one of mindful unity and understanding from the musicians. It's such an open, honest vibe being created that when the band leader's sax brings the tune back in, it's totally natural, nothing being forced, allowing the music to simply live and breathe. It's almost as if Birchall and co are the divine vessels through which the music flows. Tim Fairhall's double bass leads us into "Invocation", a thoughtful piece that gradually builds on its reflective opening with Adam Fairhall's piano holding it all together as Birchall soars. The extended intro, punctuated by some great drums and percussion from Hunter and Weaver, takes us into more familiar territory as the melody kicks in, underpinned by a cool, time-honoured bass riff that allows pianist Fairhall and saxophonist Birchall to express themselves, weaving in and out of the subtle nuances created by the band as a whole. One can only sit and marvel with a deep respect on hearing Coltrane's "To Be". Originally recorded during 1967's "Expression" sessions, the tune featured Coltrane on flute, sharing the ambience with Pharoah Sanders' piccolo flute. Birchall's tenor playing suits the feel of the track perfectly. There's a universal energy emanating here, one which sees Birchall leading his band to an ultimate truth through the lineage of Coltrane and Sanders. And when pianist Fairhall rides the waves of consciousness with such passion, it's hard to imagine anyone else enhancing an old Trane tune with such skillful beauty and heartfelt understanding. Continuing in the same mood, "Njozi (Vision)" is a truly stunning piece of music. Birchall disappears into freer territory here, yet his soloing is so immersive and involving, that there's never a doubt in my mind as to just how poignant and melodiously wondrous his playing can be. He's on fire here, his inner flames darting out with metaphysical strength and prowess, engaging and atmospheric. During this tune he hands over the torch to Fairhall who provides us with an equally memorable passage of virtuosic piano playing. The emotional power in his performance lifts things to an even higher plane. The final track, "A Luta Continua" translates as "The struggle continues". No matter what tongue we are speaking in, the universal language here is undoubtedly in the music itself. The improvisations around the core themes create an aesthetic of purity and unbridled, unashamed freedom of spirit and expression. Listen to this album by letting yourself go… by letting everything go… and you will be transported to a place where music rarely takes us, to the heart and soul of our very being.
Mike Gates
*************************************************************************************************
Chris Searle, Morning Star
To hear the essence of a real musician is to be seized by the mind and spirit simultaneously, and Nat Birchall, the tenor saxophonist from Glossop, radiates this in the manner of a Coltrane, an Ayler, a Tchicai, a John Gilmore or of the survivor Pharoah Sanders.
None of these master were born English or lived in a Derbyshire town below the Pennines like Birchall, so his message is materially different, but the sounds of his horns enter your blood, bones and consciousness directly from nature and social reality like no other British hornplayer.
Referring to the legacy of Coltrane and his contemporaries, Birchall says: "Music seems to me to display this connection to whatever this higher source, this higher energy might be. It seems to connect to it the most, more like other music."
Coltrane's "higher source," like that of Blake or Shelley or Morris, has always seemed to me to be an intimation of a better world, of human endeavour matched to common weal, of a universe of fellowship, work and love. You can hear this too pouring from Birchall's saxophone in his new album Invocations — far, far from the commercial formulaic routine music of instant money-making dreams that surrounds and threatens to despoil our ears and circumscribes our lives.
There are but five tracks on this 47-minute album, but they tell enough of Birchall's singular artistry and the subliminal human achievement of his musical context, of a Pennine world of nature transformed by epic work, of every yard of dry stone walling across endless miles of slopes, valleys and hills, communally organised, communally humanised. That to me is the essence of Birchall's musical spirit and it teems from his notes: the labour of history peals through his horn.
With him is his regular piano confrere Adam Fairhall, with Johnny Hunter on drums, bassist Tim Fairhall and Christian Weaver on congas and other hand drums which go back to the hornman's early passion for reggae and the grounding drummer Count Ossie, now integral to his music.
All but one of the compositions are by Birchall, worked out on his piano, and a strange, entirely organic amalgam comes streaming from his saxophone: rural, rolling northern England, the proud freedom-seeking drums of Jamaica and the spiritual cosmos of Coltrane's eternal message.
The first and longest track is Song to the Devine Mother, provoked by Weaver's drums. Birchall's horn sounds processional ancient and beautiful, and the music flows with a serpentine sense of ritual above Adam Fairhall's almost Nilotic piano. The other Fairhall's bass dredges the current of the music, which, with Weaver's Caribbean-inspired rampaging beat creates a sense of trans-oceanic unity, even there in a recording studio in Manchester, England.
Fairhall the Bass plunges first into Invocation as the piano rolls forward, before Birchall's tenor enters like a blessing, and you feel the primeval Pennines and its worn stone banking up his horn. Fairhall's long piano solo has an echoing, subterranean timbre before Birchall returns, faster, then higher, then deeper, yet more transcendant in his sonic story.
The centrepiece track is Coltrane's To Be — from his last session on the Expression album — Birchall's long, exploratory and path-seeking notes voyage out over the earthen drums of Hunter and Weaver; Fairhall's piano is full of searching and softly-chiming phrases and when the horn returns it is marked by assurance, as if it has found a way. Coltrane lives, and in Machester too.
The final two tracks are full of Africa. Njozi (Vision) is real enough music. Fairhall strikes his keys hard and Hunter's drumset rolls alongside him as Birchall's testimony sets itself down in powerful sound.
Power too, is the key of the album's finale, A Luta Continua. I heard this slogan thousands of times during my years as a teacher in revolutionary Mozambique during the mid '70s every morning from my students before classes began or scribed on every naked wall. Now musical tidings via Ossie's Jamaica, Coltrane's Philadelphia, Birchall's Derbyshire, an elision of the worlds of sounds, revolution, north, south, the Americas and the founding earth of Africa find a unified and cosmic syncretism in a Manchester room: Viva
*************************************************************************************************
The Monitors – Best albums of 2015
"Who would've expected the best spiritual jazz album in years to arrive out of Manchester? Nat Birchall'sInvocations not only attempts to raise the spirit of his hero John Coltrane, but it damn well near does so. A stunningly beautiful album performed by a band who sound like they're not just reading from the same page, but doing so with their eyes shut. Special praise due for pianist Adam Fairhall's spurring, stirring contributions." KWC
*************************************************************************************************
Fleamarketfunk.com
Spiritual Jazz has been music near and dear to us at Flea Market Funk. Introduced like most people to it by brother John Coltrane, we kept the conversations going with Roland Kirk, Pharoah Sanders, Alice Coltrane, Albert Ayler and others similar. This type of jazz music could really get you to another plane. Many could listen to it, but were they hearing exactly what these elders had to say? Fast forward to present day and a cat like Kamasi Washington is talking with the spirits of these elders, making music as close as it could be without being them. Enter Nat Birchall. Tenor and soprano saxophonist, composer, bandleader, and channel to a higher sound, Birchall is keeping the flame lit for jazz of the spiritual kind. Taking what he could from the teachers of this knowledge before him and creating his own sound from that base, Nat Birchall has put out one hell of a jazz record. Forget that it's 2015, just close your eyes. It's Ascension in 1966. It's Karma 1969. It's 1971 Harlem Bush Music(take your pick on which one). Nat Birchall's music transcends time and space. Since Kamasi Washington's opus The Epic, I'd been waiting for someone to step up and bring more of this beautiful to light in the way it should be. Inspirational and spiritual, Invocations takes the listener on a journey that will put you on a higher level. Music can do that to you, you just have to be willing to let it. Birchall has let those spirits of the elders enter him and manifest into something that's not just good for a Monday morning, it's good for you always. Out on Jazzman Records on October 23, this one is for record shelves. Currently in heavy rotation. Check out clips from this massive record below.
*************************************************************************************************
Reviews for "Live In Larissa"
The Independent 20/04/2104
Nat Birchall Live In Larissa (Sound, Soul & Spirit)
To hear soulful saxophonist Nat Birchall and his quintet play live in a small room is one of the most intense jazz experiences you can get. This inspired 2013 recording from the Duende Jazz Bar in Larissa, Greece, captures the rushing, headlong thrill of the group's performance over two LPs on a classic Birchall repertoire of five originals plus Bill Lee's "John Coltrane" (in the version made famous by Clifford Jordan) and Alice Coltrane's "Journey In Satchidananda". The band (playing on borrowed instruments) is a cracker, with Corey Mwamba on vibes and Paul Hession on drums added to Nick Blacka's bass and Adam Fairhall's piano. And if you no longer have a record player, this is a good reason to buy one.
****
Phil Johnson
******************************************************************
Jazzwise magazine May 2014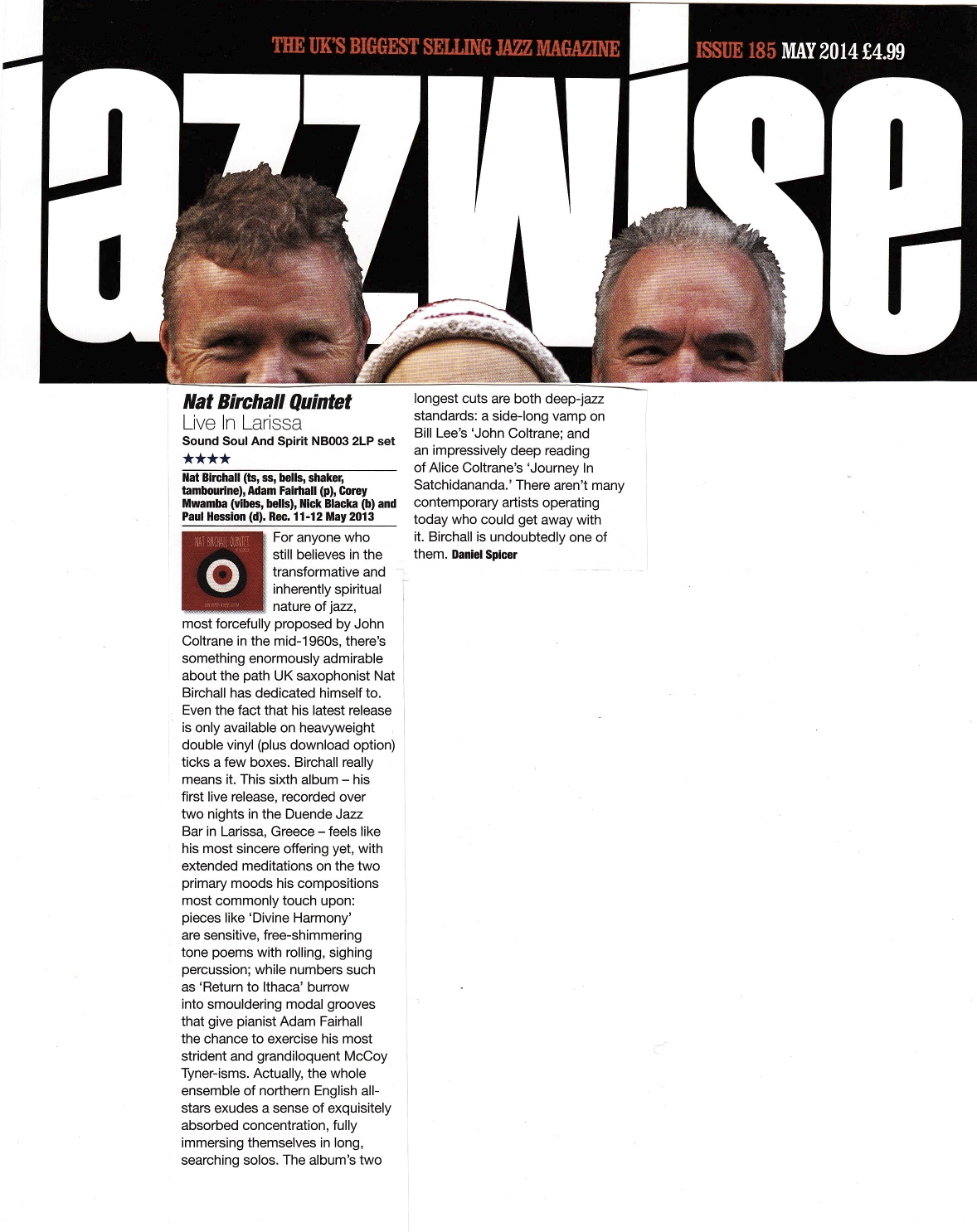 ******************************************************************
Mojo magazine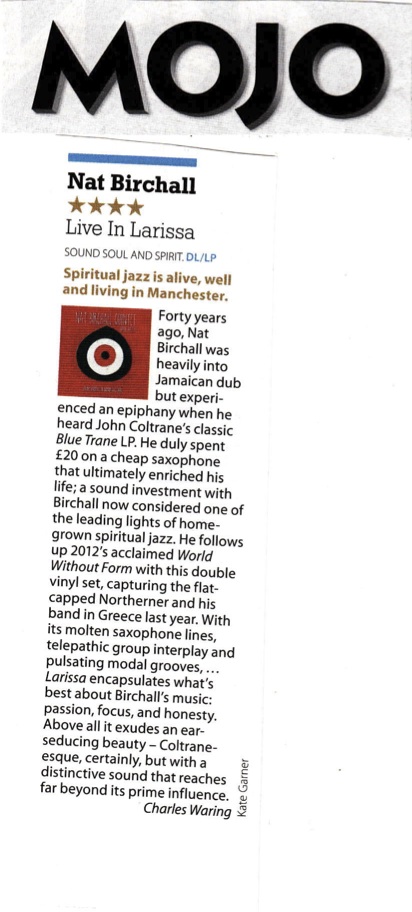 *******************************************************************
Morning Star Tuesday May 6th 2014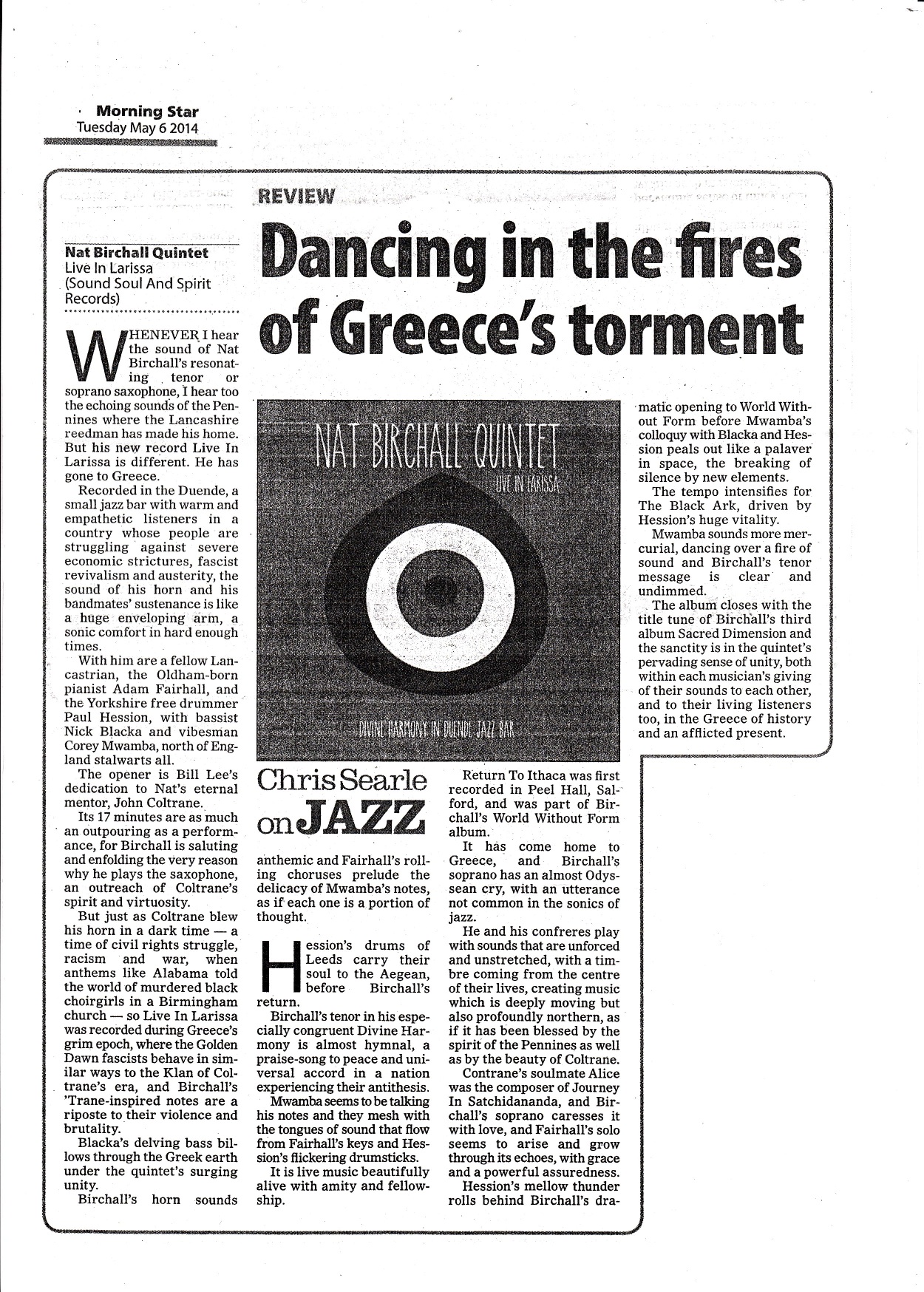 ******************************************************************
Echoes magazine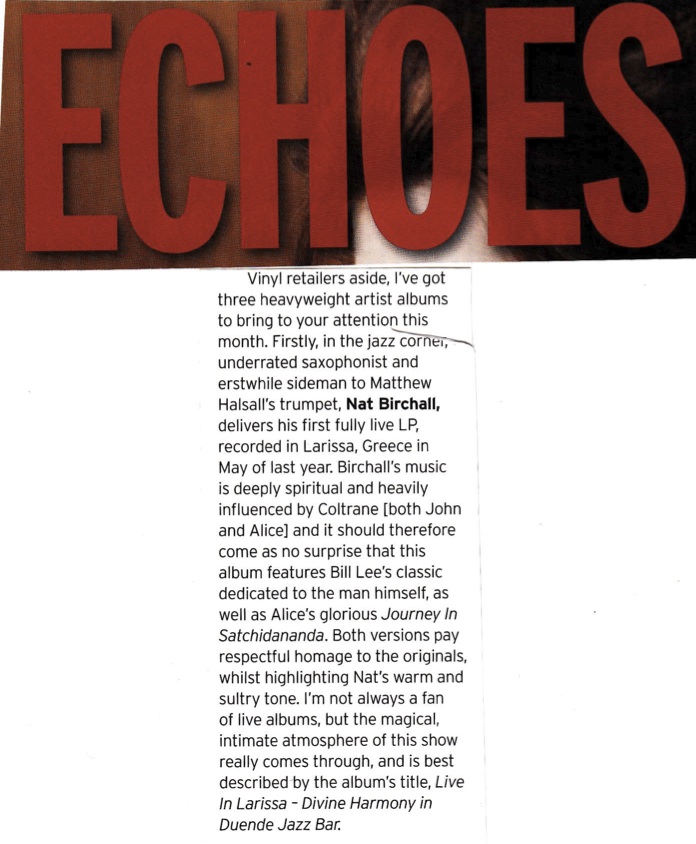 ******************************************************************
sandy brown jazz.co.uk http://www.sandybrownjazz.co.uk/whatsnew.html
Nat Birchall Quintet Live In Larissa/Divine Harmony In Duende Jazz Bar In the first of two reviews by writer/musician Steve Day this month, Steve considers how creative jazz musicians deal with their influences as they seek to produce new contemporary music.
In the first of Steve's reviews he discusses the album Live In Larissa/Divine Harmony In Duende Jazz Bar by Nat Birchall's Quintet. The album is of additional interest as it has been released on a double LP and download only, a decision Birchall took on listening to the tapes and thinking the music really suited the warmth of vinyl.
Nat Birchall (saxophones, percussion); Adam Fairhall (piano); Corey Mwamba (vibes, bells); Nick Blacka (bass); Paul Hession (drums).
I have been playing this recording over and over again; there is much more listening to come. Oh yes, it's very good indeed. Recorded in 2013 over two nights in Greece, in a small confined jazz club with the walls 'cradling' the sound rather than letting it float away. My kind of environment.
Nat Birchall's tenor and soprano saxophones sound like John Coltrane, it's uncanny. In the mid-1960's the great saxophone player Charles Lloyd took a lot of flack with critics saying his sound was too close to that of Coltrane. Charles Lloyd by-passed that prize puzzle with alacrity, going on to produce a portfolio which, forty years down the line, is a testament to the creative heights of contemporary music. Check out Lloyd's 2008 quartet 'Rabo de Nube' (ECM 2053) where each component part exists in a parallel place to Coltrane yet is most definitely 'Lloyd'. So where does that leave Nat Birchall's Quintet? Not without a problem, well, maybe. If Nat Birchall is too close to John Coltrane, it could be said to be like being too close to the Buddha. Yet, why would he not wish to be there if the result is so seamlessly realised?
This Quintet has purpose as well as poise; across seven compositions they take an empathic ride through time and harmony. Personally I use the word 'spiritual' with judicious reservation. Not so Coltrane, nor Nat Birchall; and I have to agree, this is music close to the spirit of something. The Birchall Quintet prise open Alice Coltrane's composition 'Journey Through Satchidananda'. Alice Coltrane had been the pianist in her husband's final quartet. She released 'Satchidananda' three years after his death. Pharoah Sanders was featured on soprano saxophone, alongside harp, tamboura, piano, bass and drums. The original is a classic soundscape, positioning John Coltrane's legacy not as a reproduction tribute, rather building on his mission to take improvisation on a road of discovery.
And there's no denying that for Coltrane, 'spiritual discovery' was a central element to that process. Nat Birchall stretches 'Satchidananda' to double the length of the original. His own playing, plus that of pianist Adam Fairhall and bassist Nick Blacka, get inside the groove of the piece. I admire the fact that they don't attempt to replicate Alice Coltrane. They could so easily have used Corey Mwanda's vibes (outstanding on 'The Black Ark') to translate Alice Coltrane's harp and the tamboura. Wisely they didn't, instead 'Satchidananda' becomes a beautifully different thing.
Mr Birchall, you called this gig just right! This is inspiration not reproduction. Steve Day
**********************************************************************************
Marlbank http://www.marlbank.net/reviews/1604-nat-birchall-quintet-live-in-larissa-divine-harmony-in-duende-jazz-bar-sound-soul-and-spirit-records
At last. Nat Birchall scales the highest peaks and comes down the other side triumphant. It's more than just keeping the Coltrane flame burning and paying tribute, something the saxophonist has been doing so well for ages. Maybe it's the live aspect of this album that makes all the difference but I'm sure that's not the only factor. Birchall just seems so much more convincing than he's ever been. And there's the palpable group rapport. Talk about being in the zone. Beginning with Bill Lee's composition 'John Coltrane' this double LP also includes classic Alice Coltrane composition 'Journey in Satchidananda' with an airy introduction by pianist Adam Fairhall, tambourine, then Birchall entering softly. Avant vibes player Corey Mwamba is on sparkling form throughout while GoGo Penguin bassist Nick Blacka is as solid as a rock, free improv drummer Paul Hession teetering on the brink of Rashied Ali-like lift-off time and time again.
Divine Harmony was recorded in May last year over two nights in the Greek town of Larissa's jazz bar the Duende. Beyond technique other tunes on the album are plucked from Birchall's own back catalogue but stick close to the spiritual jazz idiom, a language steeped in mindfulness, communication with the unseen and the ancient rhythms that continue to nourish 50 years on. It's not just a style, it's a place only the most committed jazz musicians dare to seek out.
Is Birchall Britain's foremost Coltranian in the classic mould? Simply yes: snatching the title from long time heavyweight champion Alan Skidmore. The promise displayed on Birchall album World Without Form has been more than fulfilled in supreme fashion the lucky Greeks in the club were first hand ear witnesses to during these Duende nights, an experience we now can be privy to.
*******************************************************************************
wondering sound.com http://www.wonderingsound.com/news/new-jazz-week-brian-blade-fellowship-roberto-negro-mike-baggetta/
Nat Birchall – Live In Larissa
Live, double-disc set from saxophonist Birchall, who I typically recommend when someone says they're a Coltrane fan and want to hear something from a modern musician. Birchall certainly does seem to channel that sound on his tenor sax, and his embrace of the spiritual jazz form certainly adds to the similarities. That said, Birchall has compiled an impressive set of recordings under his own name, and this live recording just ups the quality level even higher. Joined by frequent collaborators pianist Adam Fairhall, vibraphonist Corey Mwamba, bassist Nick Blacka, and drummer Paul Hession, Birchall hits upon some original tunes from past studio albums ("World Without Form, "Sacred Dimension") as well as some terrific covers, like Alice Coltrane's "Journey to Satchidananda" and the Bill Lee composition "John Coltrane," a song originally minted by Clifford Jordan's Magic Triangle back in the 1970s. The addition of Mwamba to this recording is particularly intriguing, especially in the facets his vibes bring to the Coltrane and "Coltrane" renditions. Dave Sumner
*******************************************************************************************************************************
Reviews for 'World Without Form' Jazz Journal ( March 2013 )
Nat Birchall 'World Without Form'  ( Sound Soul And Spirit ) The Mancunian saxophonist Nat Birchall once again hits the sweet spot between Charles Lloyd and John Coltrane with this, his second ( sic ) release as leader. Trading tough with tender, sentimentality with soul-baring honesty, Birchall wrapped my ears around his little finger in this lovely set. Song titles like Dream Of Eden and Divine Harmony are a clue to where Birchall gets his inspiration and as sideman to modal horn player Matt Halsall, he's perfected a blissed out, transcendental approach to jazz that involves bells and shakers. His own sidemen work less like a rhythm section and more like a beautifully constructed tidal barrier that opens and closes with the leader's flood of ideas. World Without Form is a beautiful, life-affirming album: a legal high even. Just don't operate heavy machinery while listening to it.
Garry Booth.
*************************************************************************************************
Nat Birchall, World Without Form ( Sound Soul And Spirit )
Fifth recording from surging tenor man Nat Birchall. Rounds out a quintet with a strong line-up of Adam Fairhall on piano, Corey Mwamba on vibes, Nick Blacka on bass, and Paul Hession on drums (plus some guests). Birchall's previous recordings fully embraced the early free jazz sound of John Coltrane and, later, the spiritual rich jazz of Alice Coltrane. Elements of both are present on this recording, but added to the mix are hints of Clifford Jordan's Magic Triangle recordings. For instance, tone and phrasings on "The Black Ark" share traits with Jordan's spin on the burgeoning free jazz movement of the 60s/70s, when he charted a course away from the blinding ferocity and toward a sound imbued with a distant warmth and ominous mystery. References aside, Birchall's ensemble is solid proof that Jazz's lifespan will continue on for another generation. Recommended.
Dave Sumner
*************************************************************************************************
Nat Birchall, World Without Form ( Sound Soul And Spirit )
In a scene dominated by jazz graduates who are fluent in the language but don't have much to say, the music of saxophonist Birchall – who came to Coltrane via reggae's Cedric Brooks – screams "Belief!" This latest release invests spiritual jazz with a personal vision evoking space and soul. Doubling up bass and drums creates a thicker sound, with roles for Corey Mwamba, Jon Thorne and Paul Hession. Regular pianist Adam Fairhall is a total star.
*****
Phil Johnson
*************************************************************************************************
All About Jazz ( December 2012 )
Nat Birchall 'World Without Form' (Sound Soul And Spirit)
In a world that often seems bereft of any sense of spirituality it's good to know that performers like saxophonist Nat Birchall are still true to the spirituality of music. Birchall, based in the northeast of England, continues to create beautiful, soulful, music on his fifth album as leader, World Without Form, in the company of some of the UK's finest young players. Birchall's avowed love of John Coltrane and Pharoah Sanders remains clear in his playing, such as his lovely tenor intros to "Dream Of Eden" and "Divine Harmony," and in his use of percussion. His love of reggae is far less to the fore musically, although some of the titles of his original compositions have echoes of 1970s roots reggae, while the title of the truly spectacular "The Black Ark" may well be a tribute to Lee "Scratch" Perry's famed studio.
The band lineup is similar to that on Birchall's Sacred Dimension (Gondwana Records, 2011). However, harpist Rachael Gladwin is missing this time round while drummer Paul Hession and bassist Jon Thorne step in. The absence of Gladwin's bright, crystalline harp is particularly noticeable when Birchall plays tenor saxophone—it offered an additional tonal quality to the music, a contrast to Birchall's soft tenor tone rather than the more complementary sound of Corey Mwamba's warm, relaxed vibes or pianist Adam Fairhall's flowing phrases. The change is less marked on tunes such as the swift, mystical, "Return To Ithaca," when Birchall plays soprano, giving his sound a sharper edge.
The sound is bolstered by the addition of second percussionist Andy Hay on five tracks, while on three of these tunes there's a further boost from Thorne as a second bassist. Doubling up bass and drums gives a "wall of sound" feel to the music but, as "The Black Ark" exemplifies, never overwhelms the melodies. Nick Blacka and Thorne set up a deep, rich, bass rhythm while the percussionists create a groove which is relaxed yet full of forward movement. Birchall (on tenor), Mwamba and Fairhall all use this foundation as a basis for crafting rather fine solos, full of lyricism and positivity.
There's a consistency of approach across Birchall's albums, but the variations in instrumentation and musicians, though relatively slight, ensure that each release bears its own personality. World Without Form's calming and uplifting music is a welcome addition to Birchall's discography, one of the most distinctive in contemporary British jazz.
Bruce Lindsay
*************************************************************************************************
Nat Birchall 'World Without Form' ( Sound Soul And Spirit )
Mancunian modal maestro Nat Birchall returns with his heaviest set of grooves thus far and a distinctive individual sound underpins this album. While some of the key members of his band are retained, most notably pianist Adam Fairhall and second drummer Andy Hay, there is a new atmosphere to this recording which makes it totally refreshing. Vibist Corey Mwaamba was an inspired choice and excels on 'Speak to us of love', the title taken from a printed quote by Eastern philosopher Khalil Gibran. The homage to Lee Perry on 'The Black Ark' has definite shades of Joe Henderson's seminal Blue Note album 'Mode for Joe', with an especially enthralling drum crescendo from Fairhall. Multi-reedist Birchall has at times been compared to the spiritual sounds of Pharoah Sanders, but on this particular recording it is John Coltrane's superlative album 'Crescent' that appears to have been a major inspiration, subconsciously or otherwise. Indeed Birchall is at his most Coltranesque on the freer flowing 'Divine harmony' where, with the presence of vibes, there are echoes of Jackie McLean and 'Destination Out'. In general the all original compositions this time round are a good deal stronger and more memorable with a real treat in store on 'Dream of Eden' with its repeated passages and a lengthy faux intro that never really stops. This writer's own favourite piece is the incredible reposing beauty of 'Speak to us of love'. Unquestionably his finest album to date, this may just be the outing that marks Nat Birchall out as one of Europe's finest saxophonists.
Tim Stenhouse
*************************************************************************************************
Marlbank Nat Birchall World Without Form Sound, Soul and Spirit 
Nat Birchall has got to be the generation X and northern English version of Alan Skidmore. You can't just say that about anyone, not when sincere and detailed study and contemplation of John Coltrane is at issue. Anyone who tries half- heartedly to make the scene, unlike Skid or Nat, just won't cut it. World Without Form never says it's a Coltrane tribute, as Alan Skidmore records sometimes do, but it's pretty clear throughout these seven tracks.
There are twists and additional elements though, and in a nutshell these are involved with the contribution of pianist Adam Fairhall who can blow up all Matthew Shipp-like at times, something very different to McCoy Tyner's work with Coltrane; and then there's the vibes, bells and shakers of Corey Mwamba, adding a piquancy and altered view into the majesty of the Coltrane sound.
World Without Form follows last year's Sacred Dimension. Like Guiding Spirit and the earlier Akhenaten it came out in the same stylistic vein (with added Pharoah-isms sometimes) and was released on Matthew Halsall's Gondwana Records, a label that has a north-west England base and revivalist DJ instincts. Halsall has been quoted as saying that Birchall's music is "spiritual, soulful and honest", which is a perfect way of putting it. This new release on a new imprint of Birchall's own has more emotion than Sacred Dimension, and with the different arrangements an openness and power that after a while allow you to move on from thinking just about Coltrane.
I still think Birchall has not travelled far beyond his comfort zone and that there are great things still to come from him in the future. Yet, as with Skidmore, he is doing everyone a favour with this crucially important jazz, bringing the music to a new younger audience. As a conduit to the spirit of Coltrane Birchall can do no wrong.
Stephen Graham
*************************************************************************************************
Northern English saxophonist influenced by Thembi-era Pharoah Sanders Nat Birchall 'World Without Form' (Sound Soul and Spirit) With track titles like 'Divine Harmony' and 'Speak To Us Of Love', and his deployment of both tenor and soprano horns, Northern English saxophonist Nat Birchall makes no secret of his love of John Coltrane.
While some of 'Trane's disciples have focused on the wilder aspects of his playing, others have explored the more meditative side of his deeply spiritual quest. The shimmering piano, African shakers and soulful tenor of the title track create a sense of cosmic bliss reminiscent of Pharoah Sanders circa Thembi. Corey Mwamba's vibraphone brings a gorgeous resonance to proceedings, while the great drummer Paul Hession rolls it all along with delicate snare hits and rumbling toms. Meditative does not necessarily mean mellow, however, and on certain tracks, Birchall doubles the rhythm section to add urgency and weight. This is particularly effective on 'Return To Ithica', where Birchall guides his Moorish-Spanish soprano over a driving groove.
Stewart Smith
*************************************************************************************************
Nat Birchall 'World Without Form' (Sound Soul And Spirit )
Northern saxophonist Nat Birchall's patient yet impassioned sound on tenor and soprano saxes is a constant genuflection to John Coltrane, but though the meditative atmosphere here has much in common with his Guiding Spirit (2010) and 2011's Sacred Dimension, the impact has been cranked up by the use of two drummers and two bassists on some tracks, and by trenchant contributions from Derby vibraphone and marimba player Corey Mwamba. The title track is a classic piece of tenor-sax soul-searching, buoyed up by Adam Fairhall's piano and the drums pairing of Paul Hession and Andy Hay, but, within its narrow agenda, this set has its variations – in Birchall's taut high-end runs and Mwamba's ringing vibes figures on the uptempo The Black Ark, in the caressing delicacies of the ballad Dream of Eden, the playful grooves of Speak To Us of Love or the folk-dance Return to Ithaca, and in the eloquence Birchall summons from minimal harmony changes on the rapturous Principle of Beauty. If Birchall leans on the arm of one of jazz's most universally followed guides, he and his musicians continue to pay their respects to Coltrane with integrity, focus and selfless skill.
John Fordham
*************************************************************************************************
REVIEWS FOR 'SACRED DIMENSION'
Jazz Journal ( March 2012 ) Nat Birchall 'Sacred Dimension' ( Gondwana )
The first time I heard Nat Birchall's Akhenaten I couldn't decide whether it was profoundly in the spirit of John Coltrane or almost laughably slavish, an extension or a pastiche of the most influential instrumental sound and harmonic language in modern jazz. I'm long since persuaded that it's the former in both cases. "Influence" is a strange and complex thing, easily cited, hard to quantify, simple enough to shrug off or deny. We have heard a generation and more of saxophone players ostensibly channelling Trane, but listening to Birchall makes you wonder how many of them did much more than cherry-pick a few elements and customise their own thing.
The Englishman has taken the language of Coltrane's later Atlantic period ( which of course includes A Love Supreme ) (sic) and instead of considering it a piece of merchandisable "heritage" has treated it as a living and inexhaustible idiom. It takes a moment to get used to this. Walk back into the room when any of these tracks is running and it's easy enough to be caught out. Why are Elvin and Tyner tumbling the metre like that? Is that really Garrison? When did Alice start playing harp with the group, and why did we never notice that softer, almost double-reeded timbre to Trane's soprano playing? It really is sometimes as close as that.
But often it isn't and it would be a mistake not to insist somewhat on the originality of what Birchall and his group do within the confines of this sanctified language. Only open-minded listening will clinch the point, and I recommend it.
Brian Morton
**********************************************************************************************************
Mojo Magazine ( February 2012 )
Nat Birchall 'Sacred Dimension' ( Gondwana )
His talent is huge and yet despite having played on the UK jazz scene for over 30 years, Nat Birchall, the flat cap-wearing saxophonist from Manchester is still little known. A scholar partly instructed by Roland Alphonso, Tommy McCook and Don Drummond but more recently John Coltrane, Pharoah Sanders and Charles Lloyd, his last two albums, 2009's Akhenaten and 2010's Guiding Spirit, both released on Matthew Halsall's ace indie label Gondwana, are transcendental, inspirational works, perfectly in keeping with the 1960's Impulse! Catalogue. His fourth, built around five brilliant six-minute plus pieces with names like Dance Of The Mystic and Peace In Nineveh – the back sleeve also contains a quote from Afghan poet Jalaluddin Rumi – casts him once more as the seeker, offering enlightenment, healing and solace in these very troubled times.
Lois Wilson
**********************************************************************************************************
BBC – Music – Reviews ( Online )
Nat Birchall 'Sacred Dimension' ( Gondwana )
When John Coltrane died in 1967, the effect was like dropping a boulder of intense feeling into the deep waters of jazz, creating ripples that are still felt today. In the aftermath, it fell to his closest collaborators to continue the work, spreading his message of spiritual awakening and universal compassion through the medium of progressive jazz. While his widow, Alice Coltrane, continued on an outward curve, drawing deeper on Hindu cosmology and digging into free jazz, former bandmates such as McCoy Tyner and Pharoah Sanders ushered in a new genre of jazz – as on Sanders' 1971 classic, Thembi – which was still characterised by deeply-felt spiritual yearning, but which reined in Coltrane's raging intensity in favour of a more accessible and breezily melodic tone. British saxophonist Nat Birchall is keeping that flame burning in the 21st century.
In fact, Sacred Dimension is so imbued with the post-Coltrane cosmo-spiritual vibe, it's a little like a presentation by an early-70s jazz historical re-enactment society. Ancient World kicks the album off with bells and shakers before pianist Adam Fairhall sets up strident, Tyner-ish chords, which, supported by Nick Blacka's determined modal bass figures, are goaded into crashing waves by the heavily rolling energy of drummer Andy Hay. Add in Corey Mwamba's neat vibes solo and Rachel Gladwin's delicate harp à la Alice Coltrane and it could easily be a lost outtake from Tyner's 1970 album Extensions. Similarly, Sacred Dimension is a limpid, free-flowing tone poem in the same vein as Tyner's His Blessings from the same album, or Sanders' Greetings to Saud, from 1973's Elevation.
What's impressive, though, is how confidently Birchall assumes the mantle of Coltrane acolyte. His soprano solo on Ancient World has some of the Moorish-Iberian tang first hinted at on Coltrane's Olé, and plays out as logically unfolding series of melodic permutations, owing much to Coltrane's endless interrogations of simple themes. Dance of the Mystic – another loping, modal groove – sets the scene for a tenor workout crammed full of fleeting echoes of Coltrane motifs that flutter almost close enough to identify while staying just tantalisingly out of reach.
In the end, this is much more than mere pastiche. It's a deeply sincere homage to a master, presented with an open heart full of passion and love. And, God knows, the world needs more of that right now.
Daniel Spicer
*************************************************************************************************
BBC Music Magazine
Nat Birchall 'Sacred Dimension'  ( Sound Soul And Spirit – Vinyl edition/ Gondwana – CD edition )
British saxophonist Nat Birchall tends to stay put, up North, which is a pity for the aural well-being of the wider world. He's a sensitive, spiritually minded horn player who channels 1960s era John Coltrane through his deeply felt writing and improvisation. He's no copyist but more a disciple of the famous modal innovator. So while Birchall avoids Trane's sheets of sound, he still has that yearning cry and displays a barely restrained intensity in extended improvisations. For this, his third album as leader, he's augmented the quartet with Rachael Gladwin's harp to elevate the sound. Pianist Adam Fairhall, drummer Andy Hay and bassist Nick Blacka work mostly to keep a meditative groove going but periodically they burst out to shower Birchall's transcendental expression with radiant colour. The album seems a short set by today's CD standards at less than 45 minutes – but the limited edition vinyl will sit well beside those classic Coltrane records.
Garry Booth