On this page I will list some of my favourite albums that have stayed with me down the years. I will attempt to explain what it is about the music that I like in each case and hopefully why the music still has meaning for me today. 
Prince Buster All Stars "The Message Dubwise" ( FAB )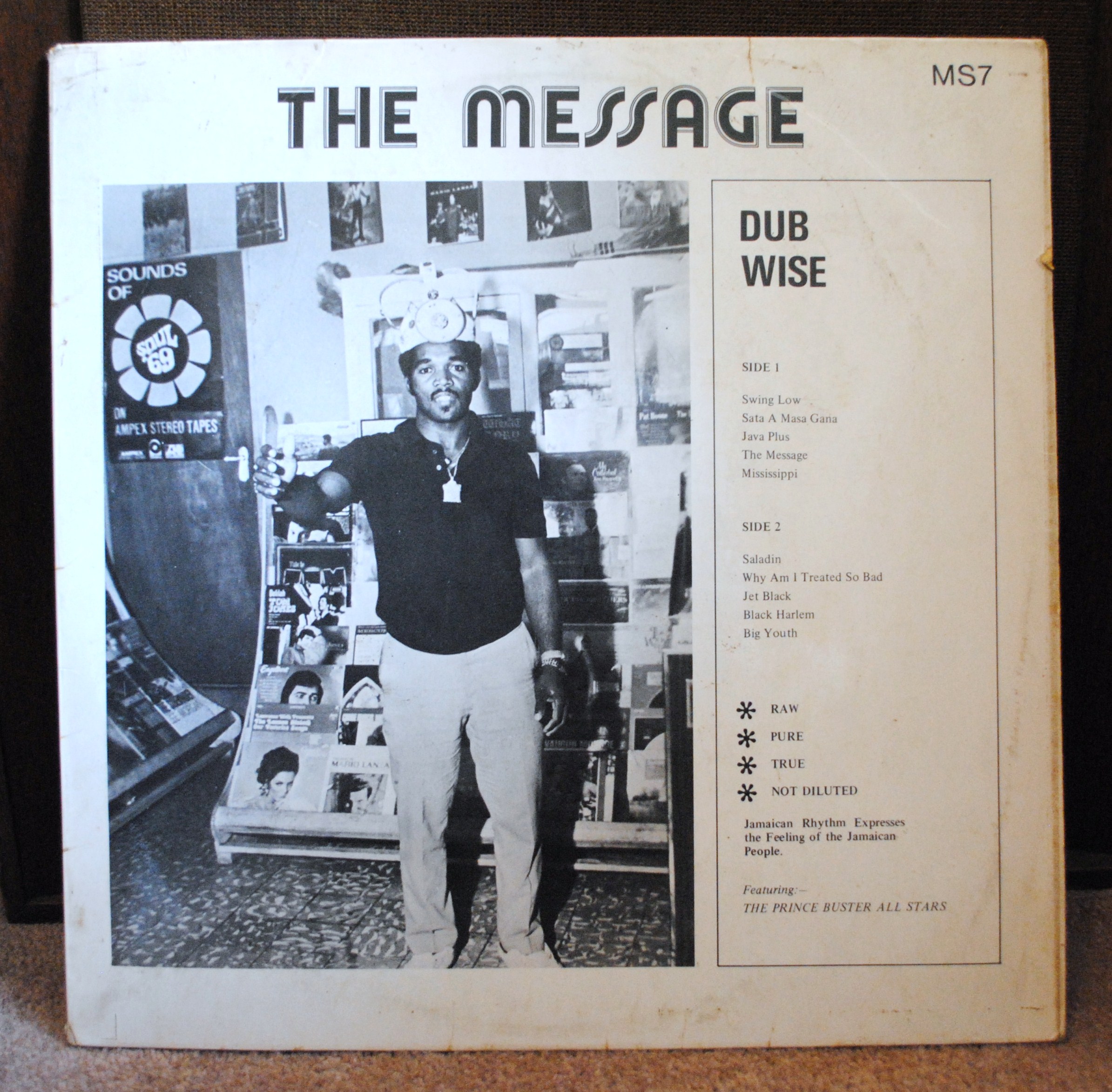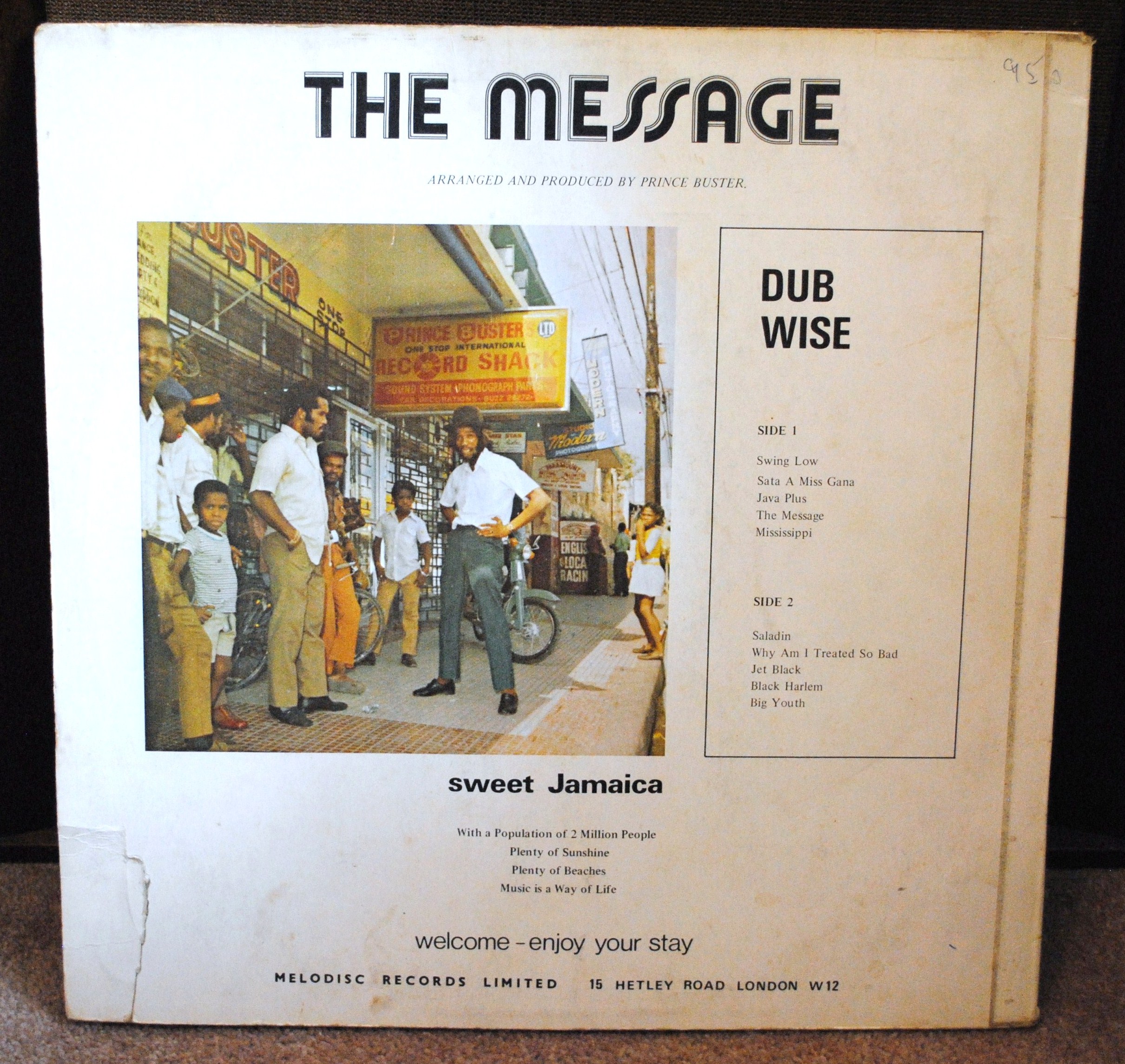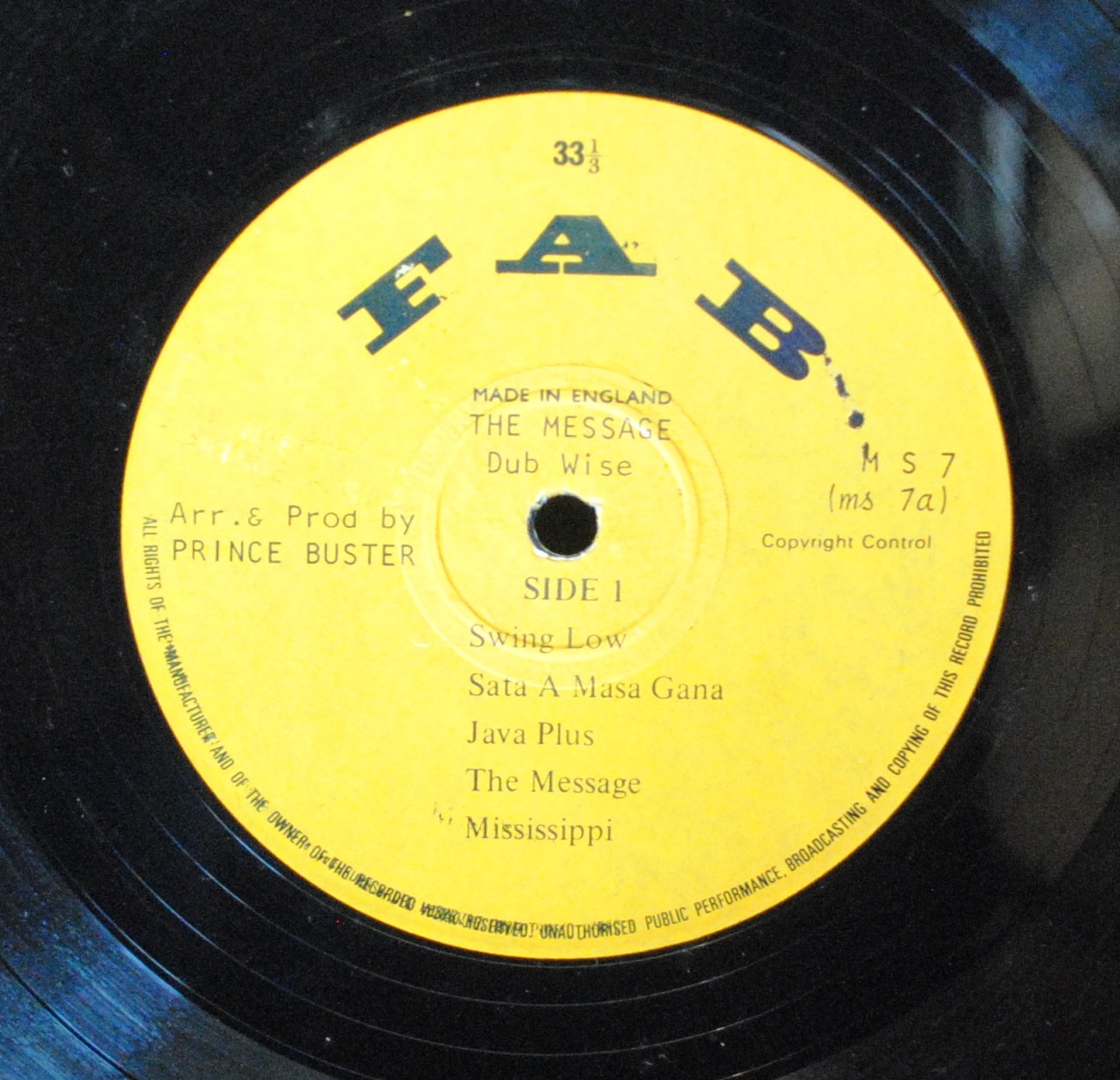 I have written a little about this album on my Blog/Thoughts page, but it's worth talking about a little more here because I think this was the first LP I ever bought that was quite mind-expanding when I first listened to it. Before this album, all the LPs I had bought had been, like the majority of Jamaican LPs, collections of singles by the artist, with maybe a few otherwise unreleased songs added to fill out the album. When I first  took this record home and checked out the sleeve there were some rather enigmatic 'notes' to be read.
"*Raw *Pure *True *Not Diluted"    and "Jamaican Rhythm Expresses The Feeling Of The Jamaican People"  Which was intriguing to say the least. ( and like I say on my Blog/Thoughts page, I wasn't sure what I had bought because there was no real artist credit on the cover or label. )  So when I finally had the record on the turntable and the music started I couldn't have guessed at what the music was actually going to sound like. I don't think I had ever heard any 'dub' music before this album. "The Message" is one of the very first dub albums released ( there is some contention over what was actually the first Dub album made, but if my memory serves me well I bought this in late 1972 or early 1973 which makes it undeniably one of the first 5 Dub LPs at least. )
Nowadays the term 'Dub' is used widely and can have various meanings. It is even sometimes used as a catch-all term for Reggae in general. But for clarification the term in its original Jamaican use was a short name for 'dub plate', or 10″ acetate disc used for Sound System 'specials', one-off recordings used by the Sounds ( Sound Systems ) to gain status over other Sounds that didn't have that particular tune to play in competition. But the term came to mean a re-mixed version of an already existing recording, where the vocals were either left out entirely or appeared briefly from time to time during the mix, with the instruments having similar treatment. After a little while the mixing engineers began to add some studio effects to the mix, delay on vocals or instruments for example. Sometimes everything was left out of the mix except the drums and bass, sometimes sound effects were added etc. But the basic meaning of 'Dub' was a backing track that had been deconstructed, to some degree or another, often revealing hitherto unrealised dimensions of the music.
The music on 'The Message' came out of my speakers and took me completely by surprise, I remember the moment clearly, a day when light appeared through the clouds and shone for the first time. Nothing will compare to that first listen of this LP for me, this is still my favourite Dub album, the first cut is the deepest as they say. Dub developed over the next few years and there were some really incredible things to be heard, particularly from the Dub Master, King Tubby, but the original idea is the most powerful and so my first exposure to it has stayed with me since. I thought it was the most amazing music I had ever heard, shockingly new and innovative to my ears, a new world opened up before me and nothing sounded quite the same again.
Some of the tracks on the album have a pronounced 'Eastern' sound/feel to them, something that is referred to in the Reggae world as the 'Far East' sound. The minor key songs and instrumentation of flutes, hand drums and even the melodica, add to this mystical vibe and these qualities have influenced me in my own music to some degree. But more of that later…
Some more Dub LPs
Throughout the remainder of the 1970s I bought as many Dub albums as I could find. In the niche world of Jamaican music it's often about being in the record shop as soon after new records were delivered as possible, otherwise you wouldn't even see a copy of most records, let alone have the chance to buy one. Records were pressed, or imported, in very limited numbers and some shops were lucky to get even one or two copies of some records.
But one Dub LP that was pretty widely available was a classic, and still one of my favourites to this day –
"King Tubby Meets The Upsetter At The Grass Roots Of Dub" Winston Edwards and The Natty Locks  ( Fay Music Inc )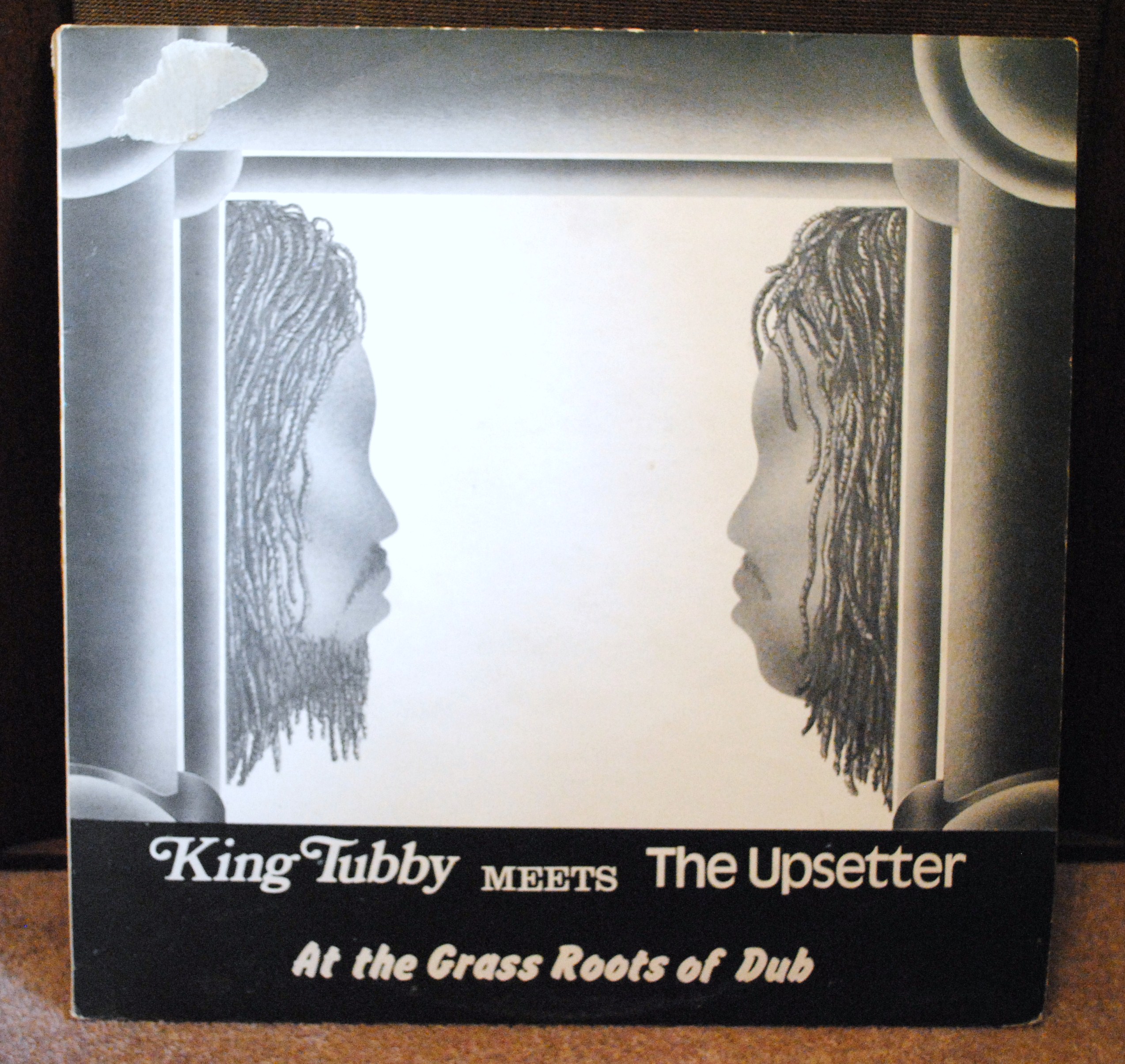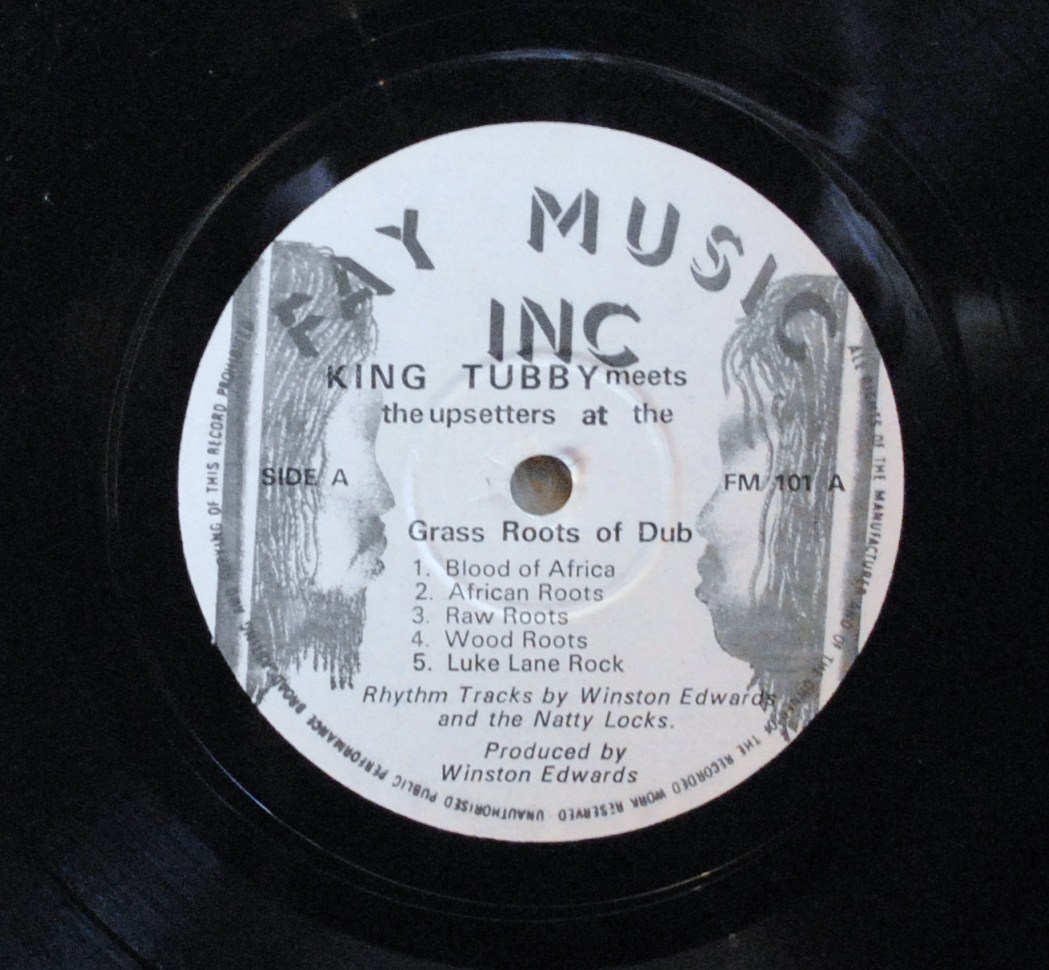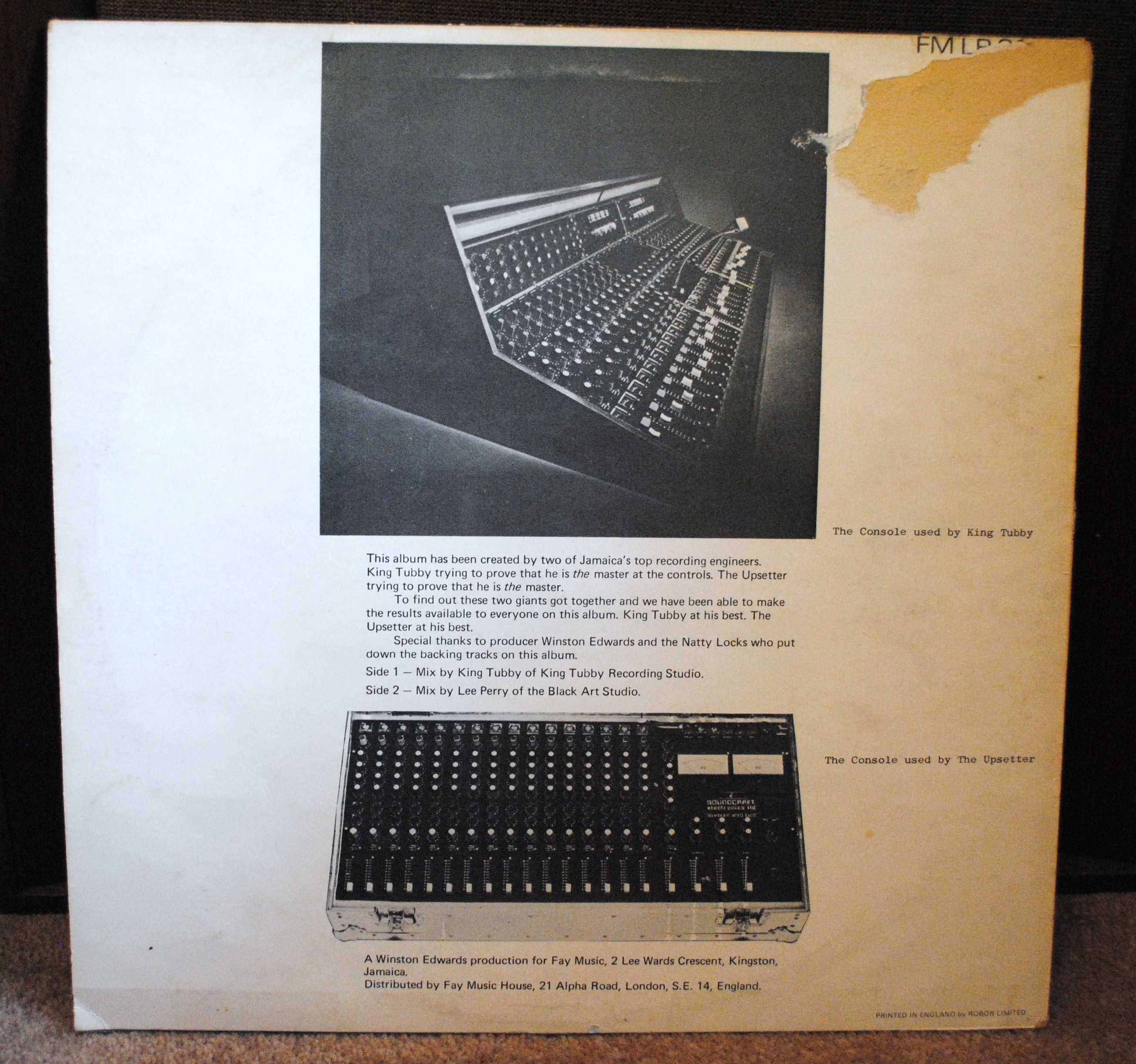 This album appeared in 1974 and was instrumental ( forgive the use of the word… ) in establishing the Dub genre in the UK. Due in part, I believe, to its being more available than most 'Roots' LPs were at that time. I don't know how many copies were pressed but the 'follow-up' to this album, "Natty Locks Dub" on the same label, came and went in a flash like most  'underground' records did back then.
But this LP has deserved 'Classic' status, the rhythms are all excellent, and many of the tracks have the added bonus of horn solos. The mixing throughout is absolutely first-class and there is a depth to the sound that carries through the whole album. The note on the back of the sleeve "Side 1 mix by King Tubby…Side 2 mix by Lee Perry…"  is spurious, the whole album sounds like it was mixed by Tubby at his studio, while the rhythm tracks sound like they were recorded at Perry's Black Ark studio ( indeed, some of the tracks are well-known Black Ark rhythms, 'Crime Wave' for example is a dub of Euslin Gregory's 'You Are So Real' released on 45 in the UK also on the Fay Music Inc label. )
One of the things about King Tubby's mixing skills, quite apart from his ability to achieve an uncanny balance of all the instruments, with unmatched depth and clarity, was his way of mixing a dub so that there was always something leading at any time during the track. By which I mean that he always had something developing within the mix, the focus would shift from one instrument, or group of instruments, to another as the song progressed. Take a listen to this track ( from another classic Dub LP 'Dubbing With The Observer' ) to hear how Tubby keeps your interest as the tune develops.
"King Tubbys Meets Rockers Uptown"  Augustus Pablo and King Tubby ( Yard Music )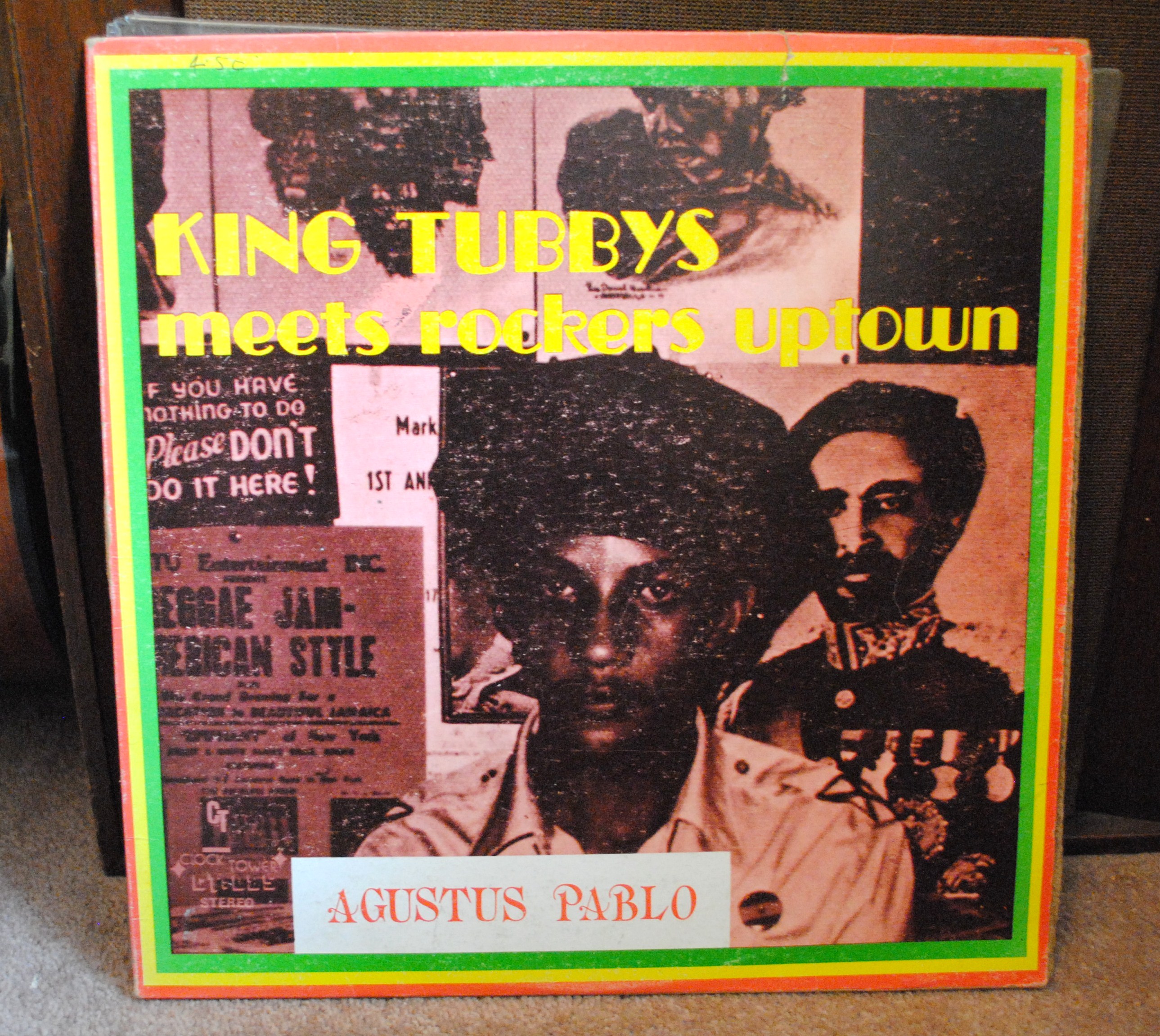 This album is another classic, all the rhythms are exceptional, the dub mix ( in STEREO, which is somewhat rare for Jamaican music of the time. ) is also exceptional. The title track is many people's favourite dub tune, and justifiably so. The strength of the original rhythm ( Jacob Miller's vocal tune 'Baby I Love You So' ) combined with King Tubby's genius mixing skills elevates the track to the heights. Another contributing factor is the drumming, by Lloyd 'Tin Leg' Adams. Not a particularly well-known name but one of the greatest Jamaican drummers ( and therefore one of THE greatest drummers! )  Adams played on some early Upsetters sessions, like the also classic 'Blackboard Jungle' album. ( I'm beginning to realise I have so many favourite albums that should be mentioned this is going to end up like a book if I'm not careful…) Adams had a very individual snare sound, one that he puts to brilliant use on Baby I Love You So/King Tubbys Meets Rockers Uptown. ( On a side note, when Island Records released this song on 45 they reversed the tracks, traditionally the vocal is usually the A-side and the Dub version is on the B-side, but Island put the dub on the A-side. Not by mistake I hasten to add, but purely to promote the dub version as the main track.  But they did get the the title wrong. They released it as 'King Tubby Meets The Rockers Uptown' which makes sense in a kind of Rock and Roll way I suppose, but the original title has a slightly more esoteric meaning. Firstly, Tubby was commonly referred to as 'King Tubbys', probably because his studio was referred to as 'King Tubby's studio' so producers would take the tape to 'Tubby's' to have him mix it, so he took the name 'King Tubbys' or 'Tubbs'. Secondly, Augustus Pablo's record label was called Rockers ( after his brother's Sound System I believe )  So the track was titled as a meeting of Pablo, representing Rockers, and Tubby, representing King Tubby's studio. )   Tubby's dub mix also takes full advantage of Adams' incredible drum breaks on the tune, check it out!
Lloyd Tinleg Adams is also the drummer on Augustus Pablo's very first album, 'This Is Augustus Pablo'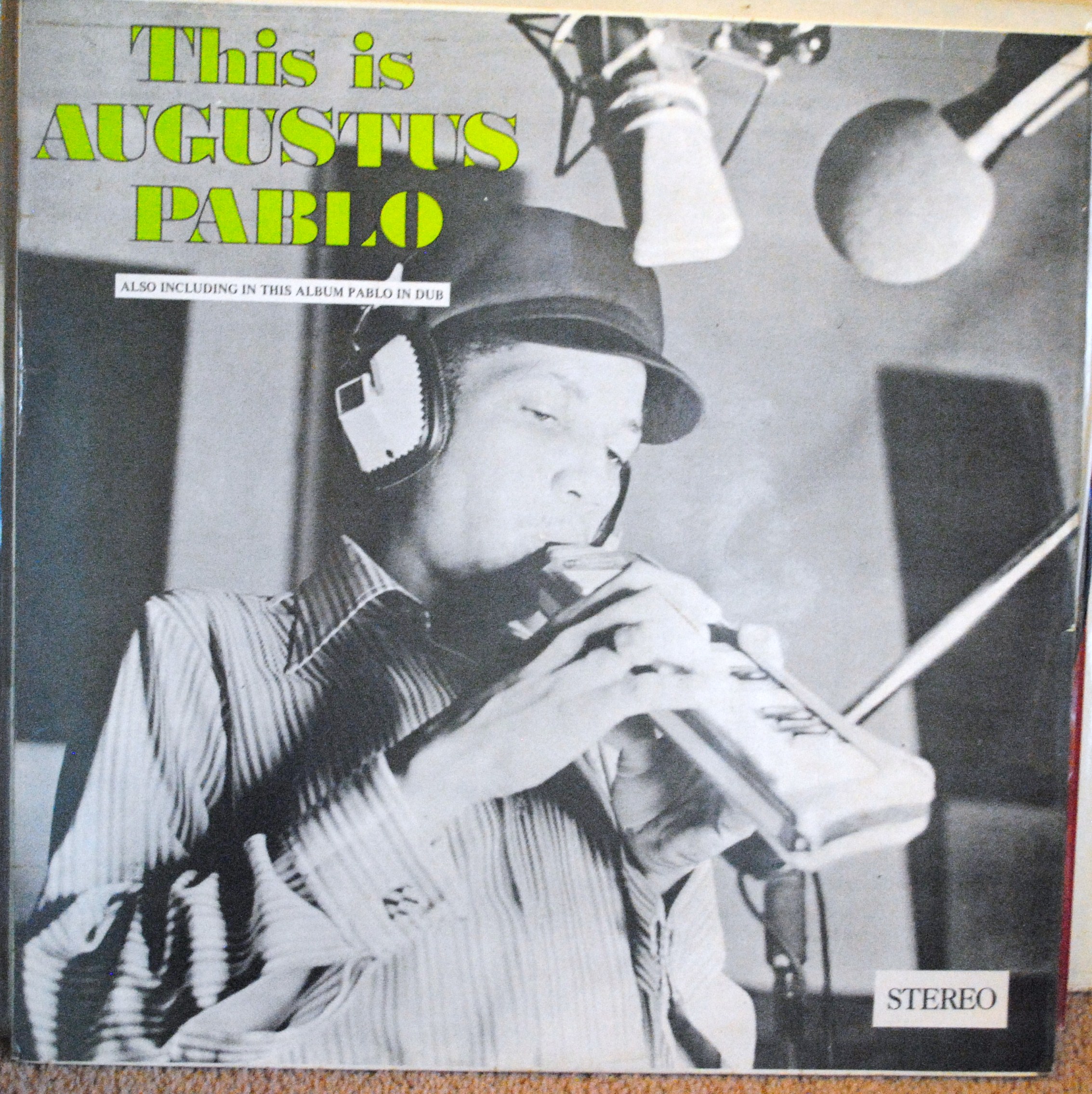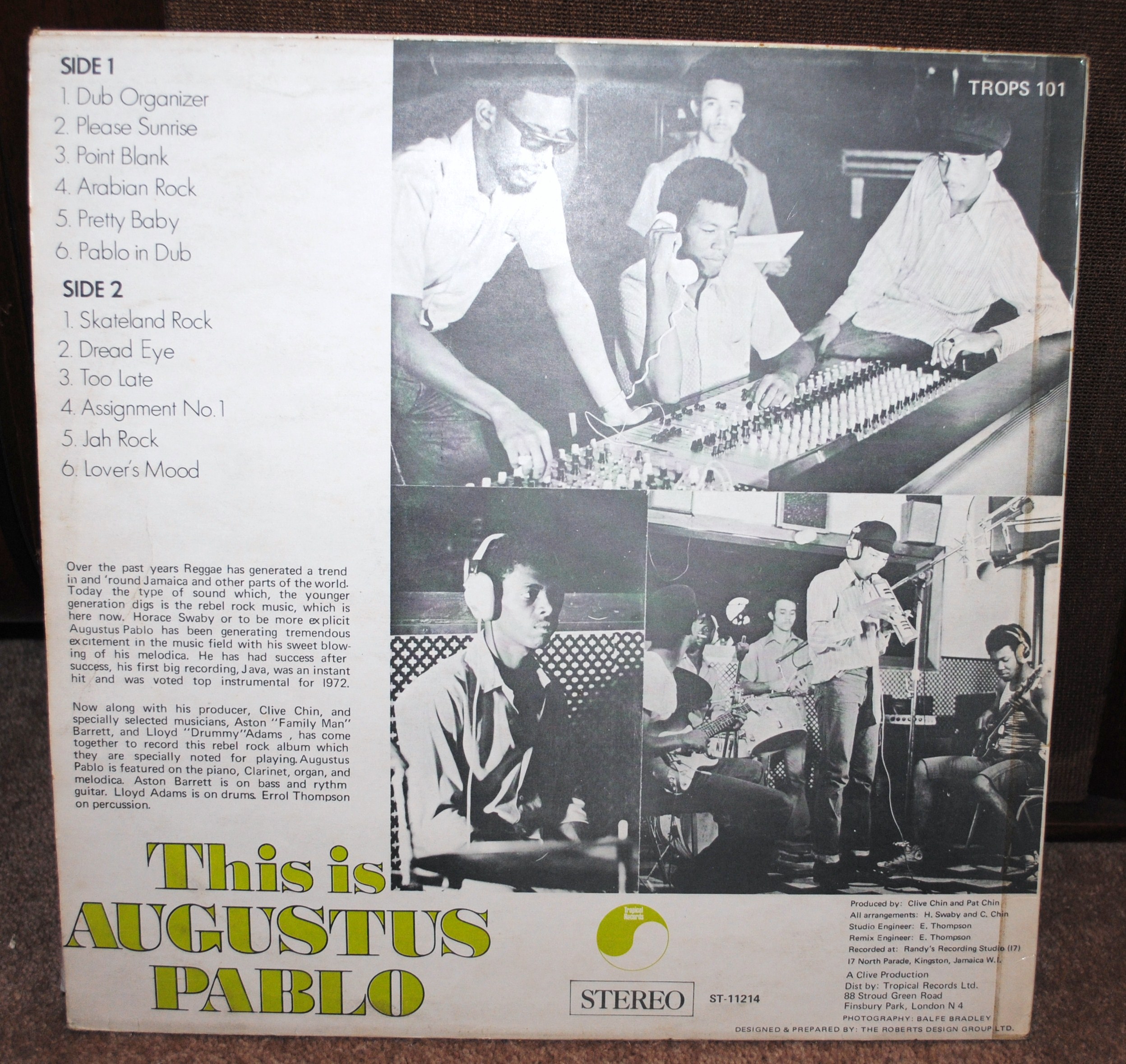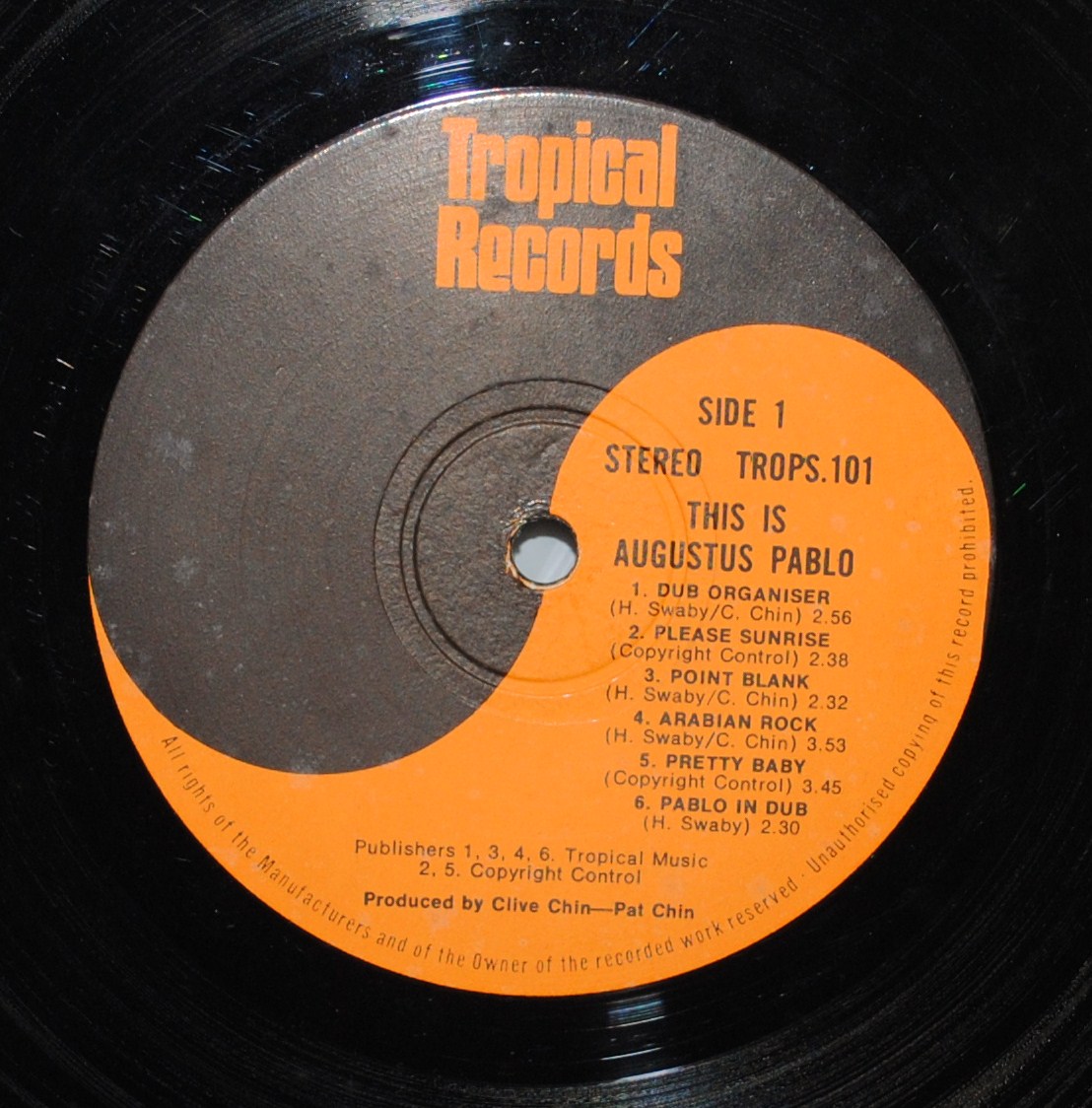 I bought this album in 1975, which was about a year after it was first released. I had read about it in an article in the magazine 'Black Music' by the great writer Carl Gayle. It was mentioned as an 'underground' LP that people would never hear under normal circumstances ( the article was from 1974 and focussed on the real reggae as opposed to what was generally visible to the British public, ie the tunes that were played on the radio, which were very few of course. ) So in my mind it had attained a kind of mythical status. And in 1975 I began to travel to Liverpool once a week to attend a college on day-release from my job. I soon discovered that there was a reggae shop a mile or so up the road from the college so one lunchtime I walked up the road to find it. I found the shop in a deserted street littered with broken glass, the shop had no name outside it ( although I'd heard it was called 'Super Shack' or 'Super Shock', I never did find out which ) nothing at all to give any clue as to what was behind the door, except when I peered through the window I could see album sleeves on the wall, Reggae album sleeves. This was the very first 'specialist' shop I had been to, until then I had bought all my records from shops who either stocked a few reggae LPs, or I had ordered the records from them after reading about them, usually in Black Music. But they never put reggae records on the walls. So when I went through the door and gazed at the walls full of sleeves I felt like I had found Aladdin's cave. The shop was empty of people, there was no-one behind the counter. I can't recall if there was any music playing but there was an old valve amplifier, with all the valves visible, and one huge speaker box, with one 12″ speaker in it. I looked at the sleeves on the walls, there it was – 'This Is Augustus Pablo'  I actually couldn't believe it, I looked at more LPs –  'Pre Release From Jamaica – Ram A Dam – Love, Yabby U and The Prophets'  with a very basic pasted-on paper sleeve. Who on earth were Yabby U and The Prophets? Their black and white snapshots on the cover made them look dread to the maximum, this must be proper Roots music I thought to myself in wonder.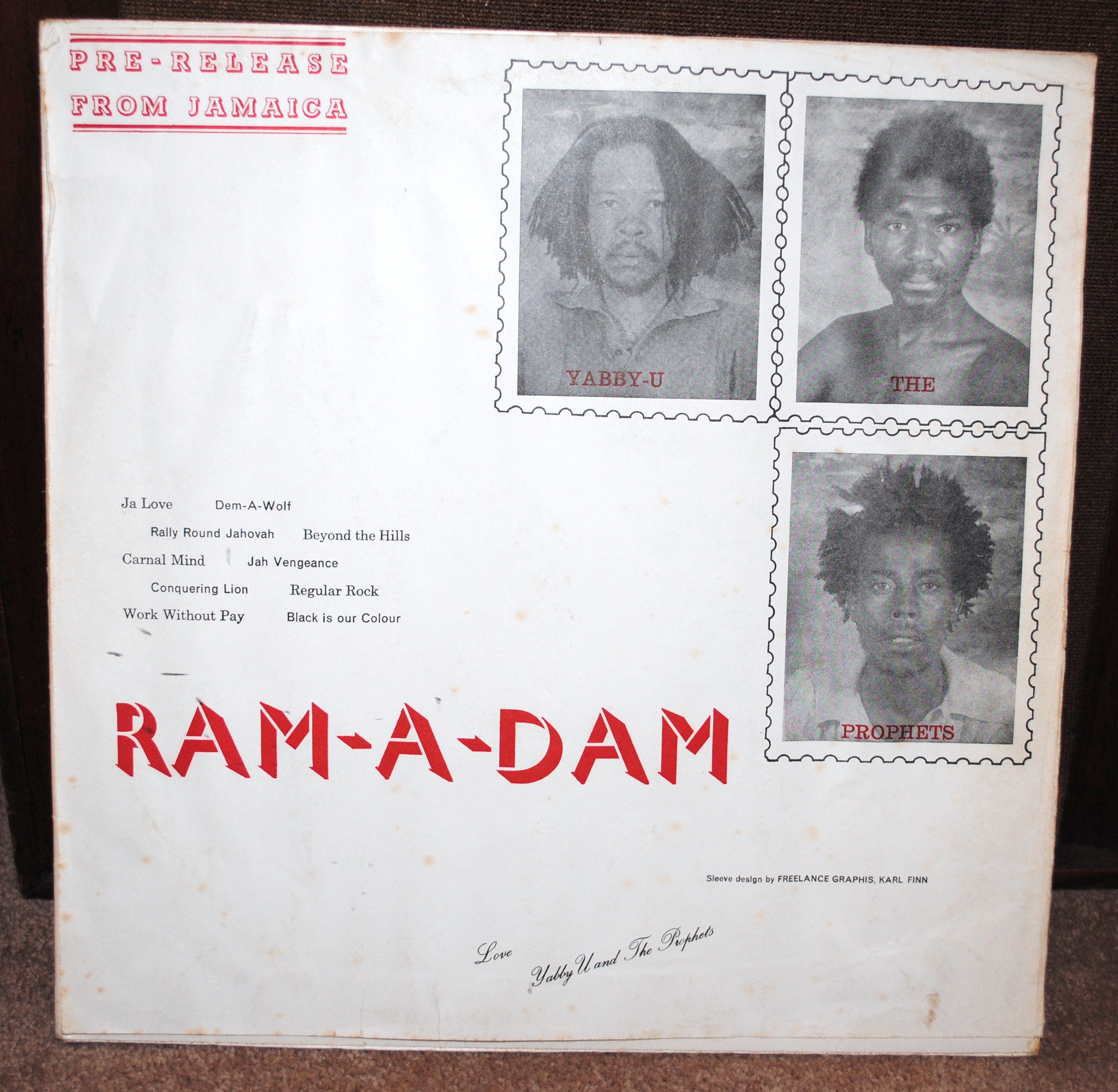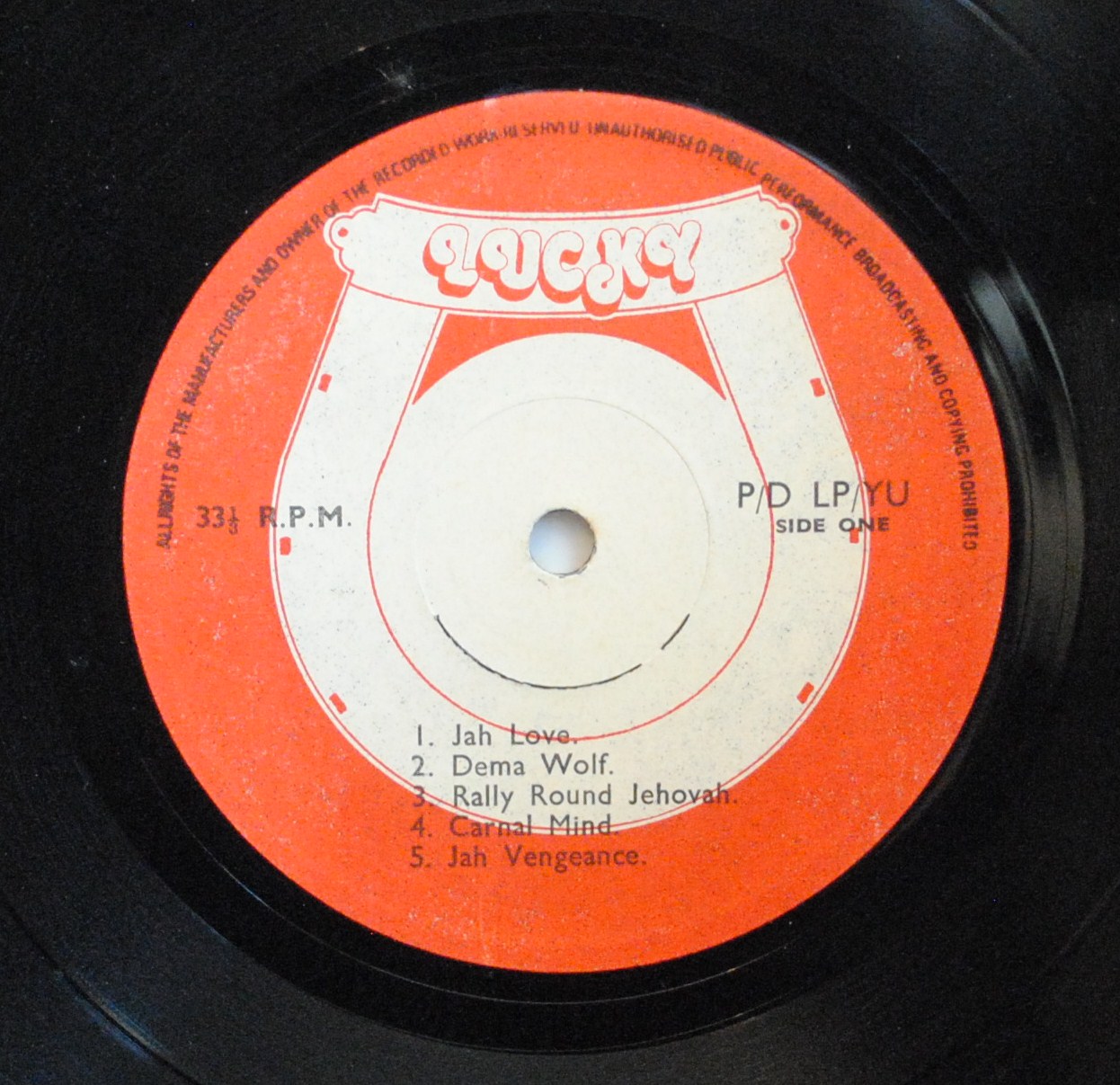 Eventually, after about 5 minutes of me gawping at the covers, a man emerged through the door behind the counter, he looked a little shocked to see me there. I don't know whether it was just because he didn't realise anyone was in his shop or whether it was because I was white ( I went to the shop practically every week for two years and never saw another white face in there )  I don't recall the conversation but I said something about him having some nice records on the wall and we began from there. His name was Gaynor ( or maybe Gaynair? ) he was a little guarded maybe, but a very amicable guy, and he was very nice to me over the coming months/years. He said he went to school with Bob Marley, which I took with a pinch of salt but who knows.  Apart from the covers on the walls there was nothing on display, all the records were under the counter. That first visit I bought both the Pablo LP and the Yabby U LP, and each week as I visited his shop and he got to know my tastes he would produce records from under his counter to show me. As I say, he was very kind to me, if there was a new Dub LP and a couple of Roots 45s that I really wanted, but didn't quite have enough money for, he would let me have them a little cheaper. I think he actually was happy that there was a young white kid into the music, it was quite rare at that time. When I eventually got back to the college ( always late of course…) the other students on my course would look at the albums with puzzlement, "What is it? Is it jazz?" "The big city's gone to his head!"
UPDATE  29th May 2015
When I got to listen to my new records the music really turned my head. The Augustus Pablo LP was incredible, beautifully recorded and mixed ( in Stereo! ) by engineer Errol Thompson ( Later to gain some fame as the engineer for producer Joe Gibbs'  "African Dub" series of albums which were very popular in the mid 70s )  The album was all instrumental with one dub track, "Pablo In Dub", and the rhythms and melodies were exceptional. This album ( This Is Augustus Pablo ) is also one of my all time favourite LP cover designs, I thought the whole package was 100% – Music, mix, cover.
The Yabby U LP, "Ram A Dam", was something else though. I had previously never heard of Yabby U ( or Yabby You as he became better known as, real name Vivian Jackson )  I loved roots music but this was music that was even DREADER than anything I had heard up till now. Some of the rhythms on this LP are so deadly they still have incredible power when I listen to them nowadays. This is incredibly profound music. Tracks like "Jah Vengeance" are so full of mystic wonderment that I can't imagine how they came together in the studio.
This track was recorded at Lee Perry's Black Ark studio. The session was so strong that Perry reportedly asked Yabby if he was "workin' obeah", because no one was supposed to come into his studio and get those kinds of sounds apart from Scratch the Upsetter himself!
The LP is full of Roots masterpieces of the highest order. Jah Love ( aka Warn the Nation ) Run Come Rally ( aka Jah Speak With Lightening and Thunder ) and the song that began Yabby You's career – Conquering Lion. This music is of such depth and spirituality that I didn't really find much else as profound until I discovered the music of John Coltrane some years later. Some notable exceptions being the music of the Abyssinians and some of the music of Keith Hudson.
The Abyssinians are a vocal trio who made one of the most iconic songs in the history of Jamaican music – Satta A Masa Gana.  They originally cut the song for Clement "Coxsone" Dodd at his legendary Studio 1 around 1969 but in 1975 they re-cut the song and released an album of the same name. ( also released as "Forward On To Zion" ) This album has some new versions of older material, "Yim Mas Gan", "Declaration Of Rights", plus new songs, and is a masterpiece. The song writing, playing and production are all of the highest quality and the music, as all the best music does, transcends the idiom and moves into the higher ground of Spiritual Music. When I listen to this album ( and others ) I'm sometimes distressed because of the neglect that this music has suffered, and continues to suffer. This music was conceived and created in the West, yet the "Western World" continues to ignore it. To me this music is of such incredible beauty and profundity, much more so than the music of practically anyone who may be held to be "great" by the ones who decide these things. Why Reggae music is still marginalised in these so-called enlightened times is completely beyond me.
Keith Hudson, aka the Ghetto Dentist ( no anaesthetic!! )  was a true original. He was a producer but also a singer/song writer. Many have criticised his singing abilities but I actually have a soft spot for his vocal talents. I think it may be something to do with a lack of falseness or posturing. His voice is direct and "matter of fact" without any niceties that may have been on show in order to gain acceptance from the general public. His 1974 album "Flesh Of My Skin" is one of my most treasured possessions. I asked Gaynair at Super Shack records if he could get me the album when I first visited his shop in 1975. After some time he finally managed to get me a copy, although it came without a sleeve. ( I managed to get a sleeve for it from Black Wax in Birmingham a little later on but that's another story… ) The music is deep and profound and has such a unity of purpose that his cover of Bob Dylan's "I Shall Be Released" sounds like it was written by Hudson for this album. He also gets extra credit for having the first track on the album, "Hunting", played by Count Ossie and his group.
I don't think Hudson ever bettered this album, although his 1978 release "Rasta Communication" would be a close second, and is actually a very profound statement compared to a lot of what was being released then and now. But "Flesh Of My Skin" transcends its apparent standing partly by its unusual construction methods. There are no drums, apart from hand drums, on some tracks for instance, which gives the music a particular sound which is quite unusual in Jamaican music.
And the track that opens the album, "Hunting", features the Count Ossie group. I had already bought the incredible 3 LP set "Grounation" by Count Ossie and The Mystic Revelation Of Rastafari a year or two before and it quite changed the way I heard music I think.
This album, "Grounation" ( New Dimension JA, Ashanti UK ) came into my life in late 1973 or possibly very early 1974. I had bought a brand new magazine devoted entirely to Black music, titled appropriately enough "Black Music" in December 1973, which was the very first issue of the magazine. It was largely devoted to American Soul music which was very popular at that time, but there was a certain amount of Reggae music covered and the first issue had a review of this album by Carl Gayle as well as a full colour picture of the group! I immediately ordered the LP from my local record shop ( the only way for me to get these records at that time ) When the LP arrived and I took it home and listened I was transported by the completely acoustic nature of the music and the imagery that it invoked, both of Jamaica and of the ancestral homeland of Africa that the musicians, or their forebears, had been taken from in history.
The opening track "Bongo Man" begins with horns ( Tenor and baritone saxophone and trombone ) stating the slow theme accompanied by hand drums, shakers and bowed double bass. The sound is immensely evocative and still stirs my heart every time I listen to it. This was the first LP ( actually a 3 LP set, unheard of in Jamaican music ) that had double bass on it and the sound of the instrument plus the bass lines had a great effect on me.
The tenor saxophone player on this album is the great Cedric "Im" Brooks and his sound and playing here were my first introduction to Jazz type soloing apart from the very short solos that I had heard on Ska tunes and his style has undoubtedly contributed greatly to my concept of how a tenor saxophone sounds.
When we play the saxophone the sound that we actually get from the instrument is not determined by the instrument itself. It can be quite complex but the most important factor in what sound we get when we breathe into the saxophone is what we personally imagine it should sound like. The instrument and mouthpiece and reed all contribute to the sound but the actual character and quality is largely down to the individual player and their sound "concept" and their practice routine. So this album is very important to me personally as it has contributed in no small part to my own sound concept as a saxophone player.
The Count Ossie/Cedric Brooks partnership produced one more album, Tales Of Mozambique ( Dynamic ) in 1975.  The album features the Tenor sax of Cedric Brooks on only four tracks but he plays throughout each one in very strong fashion and they are all sublime and display his strong Jazz credentials.
Another Jamaican tenor saxophonist that has had a huge influence on me is the great Tommy McCook. He is featured on countless 45s from the early sixties right through the 70s and was a highly accomplished musician without a doubt.
Around 1975/1976 I bought a white label Tommy McCook LP produced by the great Glen Brown. There was nothing written on the blank label or plain white sleeve ( very often in the case of white label "Pre-release" presses someone somewhere along the line would write on the white card sleeve the name of the album or the artist. Sometimes with variations in the title from copy to copy. )  But somehow I always thought of the LP as being called "Tommy McCook In Dub" even though it wasn't really a dub album, but instrumental. It has come to be better known as "Horny Dub" and was apparently scheduled for release by the short-lived Grounation record label in the UK but never made it beyond the very limited white label pre release press. It's a great album and has since been reissued by the estimable Blood And Fire label as "Tenor In Roots" and at the time of writing is soon to be released again by the Japanese label/record store Dub Store Records with the alternative title "The Sannic Sounds Of Tommy McCook". This was the title of the LP as "advertised" on the Jamaican 45 release of Tommy McCook's "Determination Skank" where it said "From the LP comming The Sannic Sounds Tommy McCook". In the event it was only pressed on white label in Jamaica too, in even smaller numbers, and had a plain sleeve stamped "Tommy McCook Dub"!
Tommy McCook must have had a stronger influence on me than even I realise. I was driving to a gig a few years ago with a Jazz bass player and I was playing a Ska CD in the car. When a tenor solo began he asked me who was the sax player, "Tommy McCook" I replied. "Man this sounds like you!" was his response. "You sound more like this guy than you do John Coltrane". So there you have it.
UPDATE 29/01/2016
Time for some more ramblings about my favourite albums again, having written about a few Reggae albums I think it's about time I mentioned some landmark jazz albums.
The very first jazz album I bought was ( perhaps prophetically in retrospect…) John Coltrane's 'Blue Train' ( Blue Note ) I have already written about how I came to buy this album and how it sounded to me on my Blog/Thoughts page, so I won't repeat it here. But the album holds a special place in my heart, both because it was the first jazz record I bought but also because it was the very first time that I heard John Coltrane's SOUND. The first cut is the deepest as we all know, and that has a double meaning here because the first cut on the album is the title track and it is a very deep medium-slow blues which speaks directly to me every time I hear it.
Moving on quickly…
By the time I had bought my first saxophone I had 2 Coltrane albums ( The other was 'Countdown – The Savoy Sessions' which was a double LP of sessions led by a very underrated and not very well known trumpet/flugelhorn player, the criminally neglected Wilbur Harden. More of whom later…) and 2 Charlie Parker albums, budget pressings of the music he recorded for the Dial label. But when I started to learn to play saxophone I decided I had to really investigate the world of jazz, which had been unknown to me until this point.
The library in a nearby town ( Blackburn ) had an extensive jazz record section, with a leaning toward more "modern" jazz styles for some reason or other. Anyway, one of the first albums I borrowed was under Chick Corea's name, entitled 'Bliss' it was on the Muse label. I can't recall if I'd heard of John Gilmore before I heard this record or not but he quickly became one of my favourite tenor saxophone players. His solo on the opening track is stunning in its development and musical logic and has been a benchmark for my own playing ever since.
I came to discover that this wasn't actually a Chick Corea album. It was originally released in 1967 on the Douglas label and was in fact drummer Pete LaRoca's album and all the tunes were written by him specially for the session. The album took its title from the opening track, 'Turkish Women At The Bath' and was full of beautifully intense modal songs which were influenced by Eastern musics and modes.
The full band personnel is: Pete LaRoca – drums; John Gilmore – tenor sax; Chick Corea – piano; Walter Booker – bass. The whole album is exceptional and I play it often.
Booker Little 'Booker Little And Friend'  a.k.a. 'Victory And Sorrow' ( A much better title! ) (Bethlehem)
This album was Booker Little's last. I sometimes wonder where his music would have gone to if he had lived. This album, and the one before it 'Out Front' recorded a few short months before, were examples of the music opening up into broader areas of expression. This was 1961 and the music in general was to open up even more through the sixties, but I would have loved to hear what he would have done in the next decade had he lived. He was sadly only 23 when he died. This album features some very strong writing and arranging with tenor player George Coleman in fine form throughout. I've never been one to transcribe ( work out by ear and write down ) whole recorded solos of the greats, but I've done a lot of working out particular phrases. But the first 16 bars of George Coleman's solo on 'Forward Flight' had my rapt attention so much that I did transcribe the full 16 bars. I learned so much from those 16 bars I didn't need to transcribe any more of it!
The whole band plays fantastic, including the afore-mentioned Pete LaRoca on drums again, and Booker's tone is literally brilliant throughout. When he plays the ballad 'If I Should Lose You' the aching beauty of his sound perfectly transmits the heartache of the lyric.  "If I should lose you, the stars would fall from the skies. If I should lose you, the leaves would wither and die."
Tadd Dameron with John Coltrane 'Mating Call' (Prestige)
This album features John Coltrane quite early in his career, November 30th 1956 to be exact. Even though this was recorded around the same as time as the classic series of albums he did with Miles Davis, Cookin', Relaxin', Workin' and Steamin', Trane seems to be considerably more fluent and lyrical here. Maybe he just had a really great reed on his mouthpiece that day! Whatever the reason, his tone is sublime as he plays Dameron's great original tunes, especially so on the beautiful 'On A Misty Night' and 'Soultrane' which perfectly display his gorgeous singing tone in the upper register.
Clifford Jordan 'Glass Bead Games' (Strata East US)
I bought this album in 1979 or maybe 1980, there used to be a record shop in Manchester (Well, technically in Salford because it was JUST over the river Irwell on Blackfriars Street.) called Robinson's Records. They had two floors and specialised in importing deleted albums from the USA. The basement was all classical and jazz and I bought many records from there in my early years of jazz record buying. This album is a rare thing, a double LP recorded in a single session with every track an outstanding piece of music. The album has since become quite famous, not least for the version of Bill Lee's 'John Coltrane' which is highly regarded nowadays.
The very first jazz gig I played, around 1984, in a trio with electric bass and drums,  we played this track, 'Biskit', from the album as the opening number. (We also played Pharoah Sanders' 'Pharomba' and Don Pullen's 'Autumn Song' amongst other things.)